Today marks my first post for the Secret Recipe Club, an online exchange among food bloggers created by Amanda from Amanda's Cookin'. The idea behind this is that we'll secretly be assigned a fellow food blogger's site, and we must pick a recipe from that site to make for our own.
Since I love finding new blogs to read and new recipes to try, I knew that nothing but good could come from this little experiment. I was even more thrilled when I got my assignment email and realized I'd been assigned Ewa's blog, Delishhh.com. Ewa and I have been following each other on StumbleUpon for a while now, and I love that she blogs for one of the same reasons I do – to reconnect with the food she grew up with.
Ewa is from Sweden, and I haven't had a lot of experience with Swedish food. Probably the closest I've come is Norway's Schoolbread, which is a treat I adore beyond measure. So I knew I'd be in luck with anything Ewa had to offer.
After perusing her site, I settled on Havreflarn, a thin and buttery oat biscuit. Ewa from Delishhh chose to spread hers with a thin layer of nutella as well. We tried that too, and enjoyed it. But both my husband and I agreed that we truly enjoyed the pure buttery chewiness these biscuits offer on their own. Especially with a cup of tea.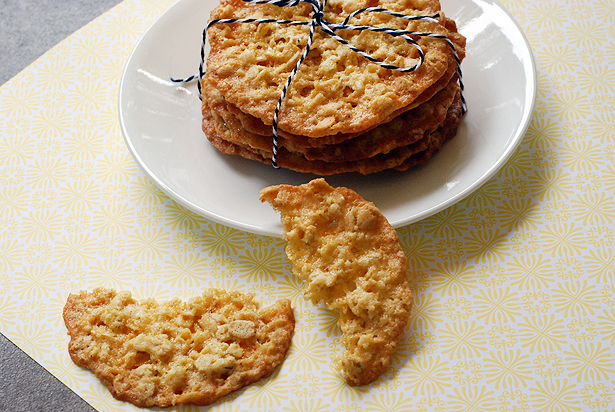 The recipe is SO simple, and took just a few minutes to put together. I used heaping teaspoons instead of small teaspoons for a bigger, flatter cookie. We loved them!
In a nod to Sweden's neighbor, Norway, in my second batch, I added a bit of cardamom. The sweet smokiness matches well with the butter. Whether you use cardamom or not, I'm certain you're going to love Havreflarn!
Havreflarn
adapted from Delishhh.com
Ingredients
2 tbsp All-Purpose Flour
1 tsp Baking Powder
7 tbsp KerryGold Irish Butter
1 1/4 cup Rolled Oats
1 large Egg
2/3 cup White Sugar
1/8 tsp. Cardamom
Nutella, if desired.
Directions
Preheat oven to 350F.
In a small bowl, mix together the flour and baking powder with a spoon so they're well combined.
In a small saucepan, melt butter completely. Add oats directly to the butter and remove from heat. Stir until all oats are well covered in butter. Set aside.
In a medium bowl, combine egg, sugar, and cardamom. Add flour and baking powder mixture as well as the buttered oats. Whisk together until well combined.
Line two baking trays with parchment paper, and then spoon either scant or large teaspoons of batter onto the tray. If using heaping teaspoons, place no more than 6 cookies per pan. If using scant, you should be able to place up to 9, with roughly 2 inches between each cookie.
Bake for 7-9 minutes or until the cookies appear to brown around the edges. Allow to cool on the tray and then peel off the paper.
When cookies are completely cool, spread with Nutella if desired.

[wpurp-searchable-recipe]Secret Recipe Club – Oatmeal Wafers – – – [/wpurp-searchable-recipe]