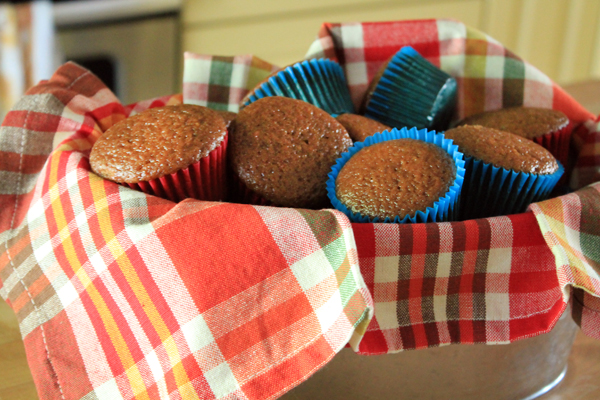 It's time for another Secret Recipe Club!
This month I had the pleasure of perusing Sweet As Sugar Cookies, written by the adorable Lisa.
Lisa grew up in Hawaii, that lucky girl! James and I dream of visiting Hawaii someday soon. In the meantime, I'll comfort myself with enjoying all the scrumptious recipes to be found on Lisa's site.
It didn't take me long to zero in on Lisa's recipe for Hot Peppered Gingerbread Muffins. The hubs is a sucker for any recipe that has high hits of spice AND ginger, so this was it for us. But you should also check out some of the other recipes I put on my "Must Make List" – Apple Jacks Cookies, Pumpkin Chai Donut Muffins, and Spiced Lemon Kool Aid Sherbet.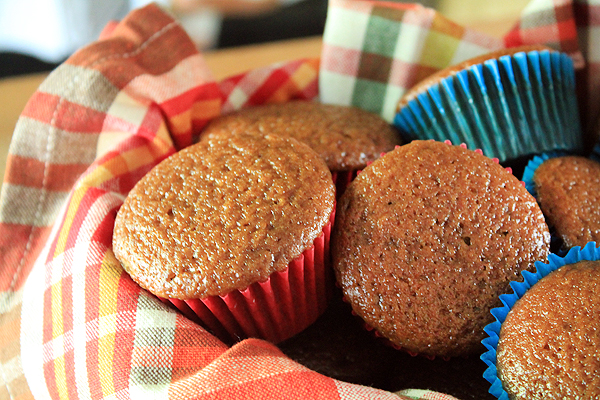 These muffins definitely have a kick, but it's not unpleasant. Think of the best gingerbread you've ever had, and then add a little mouth tingle at the end. Totally lovely!

The batter bakes up to a sponge-like muffin-cake. I kind of feel like you could easily call these cupcakes by adding a swirl of honey nut cream cheese icing to the top of each treat. But they're not overly sweet, so you can feel happy eating these for breakfast or anytime. I especially like the thought of these babies on Christmas morning.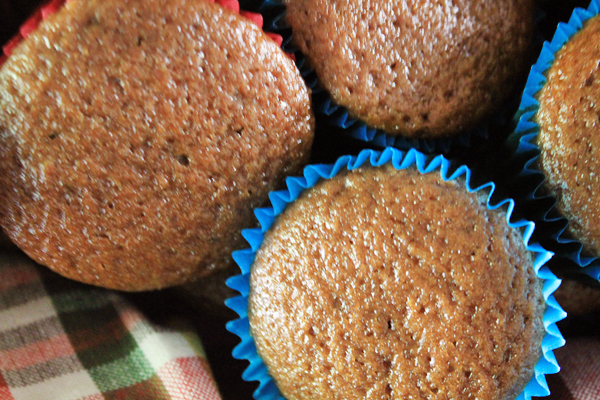 Peppery Gingerbread Muffins
adapted from Sweet As Sugar Cookies
makes 16 muffins
Ingredients
1 3/4 cup self-rising flour
2 1/2 teaspoons ground ginger
1/4 teaspoon powdered dry mustard
1 teaspoon cinnamon
1/2 teaspoon ground cloves
1/4 teaspoon freshly ground black pepper
1/8 teaspoon ground white pepper
1/8 teaspoon cayenne pepper
1/2 teaspoon cardamom
2 eggs
1/2 cup firmly packed dark brown sugar
1/4 cup sugar
1/3 cup vegetable or canola oil
1/4 cup molasses
3 tablespoons freshly grated ginger
2/3 cup hot coffee
Directions
Preheat the oven to 350°F. Line muffin tins with paper liners and lightly spray the pan and liners with cooking spray. This will keep the liners from sticking to the muffins too much.
In a medium bowl, combine self-rising flour, ground ginger, dry mustard, cinnamon, ground cloves, freshly ground black pepper, ground white pepper, cayenne pepper, and cardamom. Use a whisk to evenly combine the spices with the flour, and also to aerate the flour. Set aside.
In a large bowl, combine eggs, brown sugar, granulated sugar, vegetable oil, molasses, and freshly grated ginger. Use a hand mixer or a stand mixer to mix the ingredients on medium speed until well combined.
Add the flour and hot coffee in alternating increments, mixing on medium speed after each addition.
Distribute the batter among 16 muffin wells, filling each about 3/4 of the way full. Bake for 24-27 minutes, or until the muffins spring back when touched lightly with a finger.

[wpurp-searchable-recipe]Secret Recipe Club: Peppery Gingerbread Muffins – – – [/wpurp-searchable-recipe]