Maybe this is just a food blogger thing, but sometimes my pal Jamie and I get on the phone and talk for a ridiculously long time so long you get grounded from your cell phone because you used up all your minutes and then some about a recipe that has stumped you, and how you'd like to conquer it.
For me, muffins are like a holy grail of baked goods. It wasn't so long ago that I had no clue you shouldn't mix the batter with a mixer, or that you should really stir it only until just combined. I always wondered why my muffins were hard and tough and tiny – they never rose! It drove me crazy.

Our most recent discussion centered around Perkins' Restaurant muffins. These gargantuan beasts boast flavors like double chocolate chip, the seasonal pumpkin, or my favorite (since they don't make peaches and cream anymore), cranberry and walnut muffins.
Did you know if you ask for your muffin to be toasted at Perkins', what they really do is slice it in half, slather it with butter and grill it on the flat top? Talk about a way to enjoy your breakfast!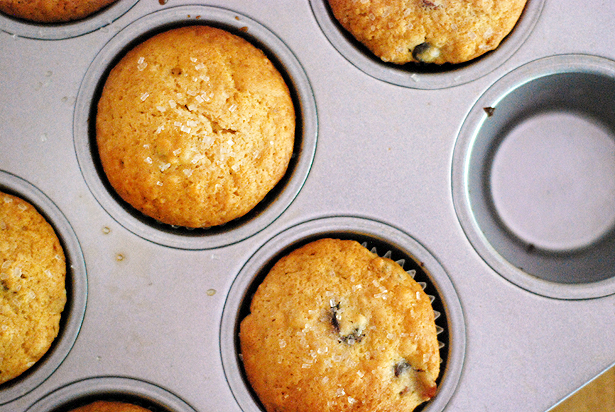 So as Jamie and I talked about this, my google-fu went into action. I just had to find out what the deal is with the beautiful puffy muffin tops you see at places like Perkins' Restaurants and your local fu-fu grocery store baking racks.
I really had trouble finding an answer, until I stumbled on a random forum about secret recipes, where one poster mentioned that when it comes to diners, 9 times out of 10, they'll use ingredients they already have on hand for other items. For example, most of their muffins start with a base of pancake batter. I nearly fell out of my office chair.
So simple. So logical. So perfect.
Most pancake mixes use both butter and vegetable shortening. The box of Bisquick or Jiffy Baking Mix you buy at the grocery store? Run it through your fingers. It feels so silky because it already has shortening mixed in (unless it's the gluten free variety – they don't).
I was just dying to try this out, but a couple of things scuppered me: lack of a vehicle (we had yet to replace our Hurricane Irene-totaled car at the time), and lack of fresh cranberries.
When I finally made it to the store after making a totally unfair deal (wherein he gets some sort of pie) with The Brit so I could have the one remaining car for the day, there were no fresh cranberries to be had. I opted instead for the "jumbo dried cranberries" and also picked up our favorite Trop50 Farmstand Apple juice drink.
Guys, pancake batter for muffins? It's a revelation. I altered the ingredients and how they were combined from the post on that Secret Forum, but I pretty much followed all the advice in the directions, and the texture and crumb that came out of my muffin pan? Incredible. Perfect even.
Were they jumbo? No. But that's because I didn't use a jumbo pan. I will next time. But the flavor, the texture, the light and fluffy delight on my tongue – diner perfect.
I suggest – no – insist you enjoy them with butter, coffee, and a lazy Sunday morning.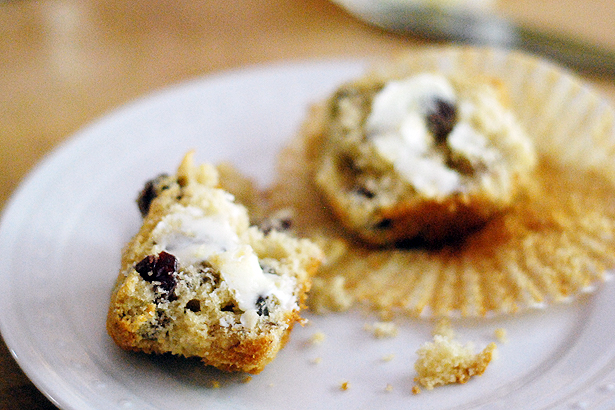 Diner Style Cranberry Walnut Muffins
Adapted from Secret Recipe Forum
Ingredients
1/2 cup (1 stick) room temperature butter
1 cup brown sugar
3 eggs (room temperature)
3 cups pancake mix (I used Jiffy Baking Mix)
1/2 cup skim milk (You can use whatever you have on hand)
1/2 cup fresh cranberries, or dried cranberries reconstituted
1/2 cup chopped walnuts
Sparkling White Sugar for topping, if desired
Directions
Preheat the oven to 325F.
Cream together the sugar and butter in a large bowl. Add the eggs one at a time, incorporating fully into the sugar and butter mixture before the next addition.
Add the pancake mix in one cup at a time, and mix thoroughly after each addition.
Scrape the bowl down, then on low speed, add the 1/2 cup milk.
Fold in the cranberries and walnuts by hand.
Distribute among paper lined muffin cups, roughly one large ice cream scoop per muffin cup. Sprinkle each cup with sparkling white sugar if using.
Bake for 25-35 minutes, until a toothpick inserted in the center of the center-most muffin comes out clean. Allow to cool before removing from the pan.
**If using dried cranberries, first reconstitute in 1 cup of apple juice or water overnight. Simply place cranberries in a bowl, cover with juice or water, and refrigerate. After 24 hours, cranberries will mostly return to their original plump juicy shape. Apple juice will add additional flavor to the berries and the muffins in general. Drain, pat dry, and then fold into your batter.
[wpurp-searchable-recipe]Diner Style Cranberry Walnut Muffins – – – [/wpurp-searchable-recipe]