Puxatawney Phil may have predicted six more weeks of Winter, but down here in South Texas, it's been bordering on shorts weather for a few weeks.
Just yesterday my sister, niece and I went for a burrito, and actually considered sitting outside to eat them! For someone who has spent the last six years in New Jersey, this is incredulous, fabulous, and wonderful.
Because the weather has been so faboosh, we're already thinking about cookouts, outdoor baby showers, and lunches on the patio.
When I received three boxes of Lipton Superfruit Tea, I considered for a moment brewing them hot. But to me, the fruity flavors are just begging to be iced!
As I sat down with a tall glass of iced White Mangosteen & Peach, I sipped slowly and savored the flavors. Sweet, but not cloyingly so. Definitely peach, with an undertone of something tropical. A little Truvia mixed in, and I was perfectly contented with what I would call the perfectly refreshing summer beverage.
Each of the flavors offers its own unique blend – Red Goji & Raspberry is tart and tangy in all the right ways. Purple Açai and Blueberry is cheeky and bright, exactly like you'd expect.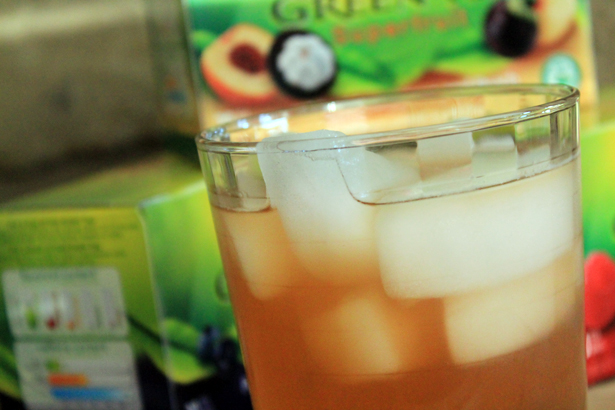 In Summer, I tend towards light lunches. Something to power me through mid-day, but leave me hungry for grilling something meaty at dinner time. So what does that mean to this southern girl? Simple – nothing goes better with iced tea than cool, crisp, crunchy Chicken Salad.

Serve the salad on a gourmet slider bun – be it focaccia or the pretzel bread I used here – or a cool wedge of iceburg lettuce. Pair it with fresh fruit like black grapes, and you've got the perfect gourmet lunch.
I've kept the mayo to a minimum, which means the chicken salad is pretty darn healthy too, to match the fantastic amount of flavanoids and antioxidants found in Lipton Superfruit Green Tea. Don't worry about the flavor though – with dijon mustard and curry powder, there's plenty of that going on!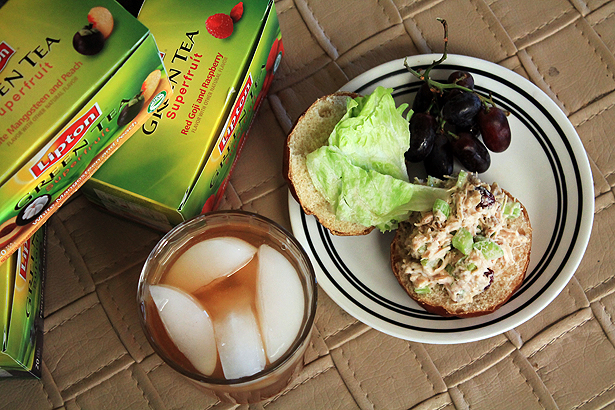 Dijon Curry Chicken Salad
makes enough for 8 sandwiches, easily halved
Ingredients
2 cans chunk chicken or 2 cups freshly shredded roasted chicken
2 stalks of celery, washed and diced finely
1/4 cup roasted sunflower seeds
1/4 cup dried cranberries
3 heaping tablespoons mayonnaise
1 heaping tablespoon Dijon mustard
1/2 teaspoon Garam Masala curry powder
pepper to taste
pinch of salt
Directions
Open and drain cans of chicken. You may also want to rinse the chicken and pat dry. Place in a medium bowl or food storage container.
Add diced celery, sunflower seeds, and cranberries. Stir to mix.
Add mayonnaise, Dijon mustard, Garam Masala curry powder, and pepper. Stir well so that all ingredients are evenly coated in the sauces and spices.
Taste, then add salt if needed.
Serve on sandwiches, lettuce wedges, or in hollowed out tomatoes at your next luncheon!

Want to try Lipton Superfruit Tea yourself?
In addition to a shot at a year's supply of Lipton Tea plus tea package, the 1st 3 people to leave a comment below will receive one box of Lipton Superfruit Tea!
Share a recipe that you think compliments the taste of the new Lipton Green Tea Superfruit! Tell us what you enjoyed about this tea, and share how you enjoy your tea.
Now that I have shared what I would pair with these refreshing Lipton Green Tea Superfruits, I want to know, how do you enjoy your tea?
Share your tea time must haves for a chance to win a year's supply of Lipton Tea, a tea kettle, a tea box, a mug/saucer set, a travel tumbler and a $50 gift card to Amazon.com!
This is a sponsored conversation written by me on behalf of Lipton Green Tea Superfruit. The opinions and text are all mine. Official Sweepstakes Rules.
[wpurp-searchable-recipe]Lipton Superfruit Green Tea & Chicken Salad – – – [/wpurp-searchable-recipe]