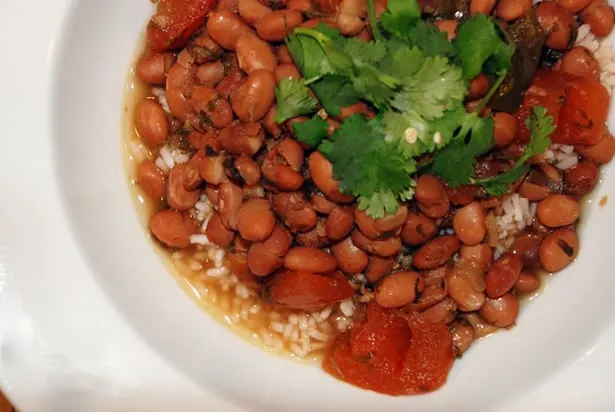 Borracho Beans, or "Drunk" beans, are a year round favorite in San Antonio, but I personally love them doubly so in Autumn. They're warm, and earthly, and oh so filling. Great for eating before you head out to the Friday night lights of the home team's football game.
Really, you can't go wrong with pinto beans, and bacon, and onion, and cilantro, and beer. The beer adds character, while the cilantro kicks the entire thing up a notch with a major blast of flavor. The real trick to these, to making a full meal out of them, is serving them over rice flavored with chicken-tomato stock. The entire dish is amazingly savory and delicious.
You can make Borracho beans with canned pinto beans, or go old school and use dried beans. I prefer dried beans because they're about 75% cheaper.
If you use dry beans, you first need to soak them for at least 24 hours. Or longer is fine too, if you happen to forget they're at the back of the stove.. *ahem*.
Right, so soak them for 24 hours, in plain water. When they've been softened, rinse them to make sure they're clear of any dirt or tiny pebbles that might have made their way into the bag of beans.
You can actually cook the beans on the stove, of go for the crock pot. Personally, if dinner doesn't get started around 10 a.m. around here, we don't eat until 10 p.m. So any time I can get things going in the slow cooker and have them ready for when we both finish work, it's a bonus.