In March, James and I began the 1800 mile trek back to New Jersey from Texas. Knowing that our little road trip would need to occur right around the same time as James's 30th birthday, we knew we had to do something fun along the way to celebrate.
One of my best friends in the world, Amanda, is a New Orleans native. We met when we worked together at Walt Disney World – she lived across the hall from me in internship housing, and we both worked at EPCOT. She and her hubby, Jay, had been bugging us to come visit them in the NOLA for quite some time. What better way to celebrate my husband's 30th than a few days in the Big Easy visiting dear friends, right?

We had just two days to pack in as much of New Orleans as we could. We stayed on Bourbon Street because, when in Rome, right? Although, I'll let you in on a tip: almost all the hotels on Bourbon Street have street side rooms and courtyard side rooms. Ask for a courtyard side room when you book your stay if you don't want to be up all hours of the night listening to drunkenness and debauchery.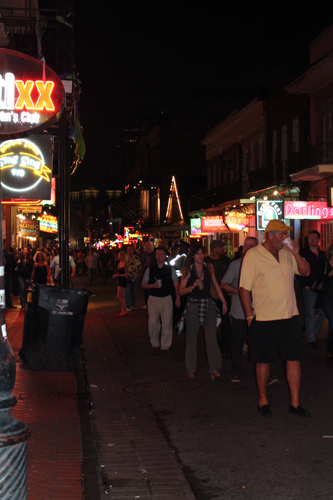 James found us a room through BookIt.com, which is a tiny little site, but had the best deal he could find when he scoured the web. What a deal it was! At just over $200 a night, we stayed at the Royal Sonesta Hotel, and were indeed treated like royalty. The foyer of the hotel is incredibly opulent, and despite a large conference being in the hotel over the days we were there, we didn't struggle for elevators or deal with lots of hallway noise.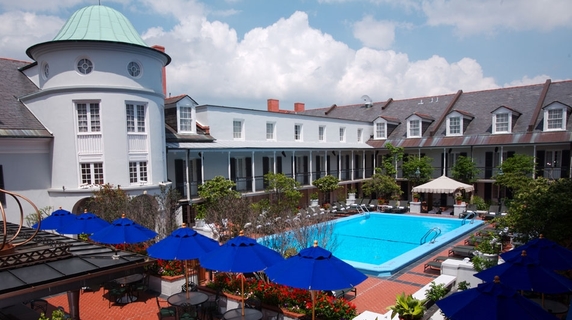 The Royal Sonesta Courtyard, featuring pool!
Two things I always insist on when I find myself in New Orleans: Beignets at Cafe Du Monde, and a shrimp po'boy from Crabby Jack's. These two food escapades take me immediately back to my first real visit to New Orleans (that didn't involve a cruise ship or me being ill in a hotel room for 3 days) – visiting Amanda when she graduated from the University of New Orleans. She took me for both, and somewhere along the way we stopped and got a drive-thru daiquiri! (It's not illegal if the straw ain't in the cup!)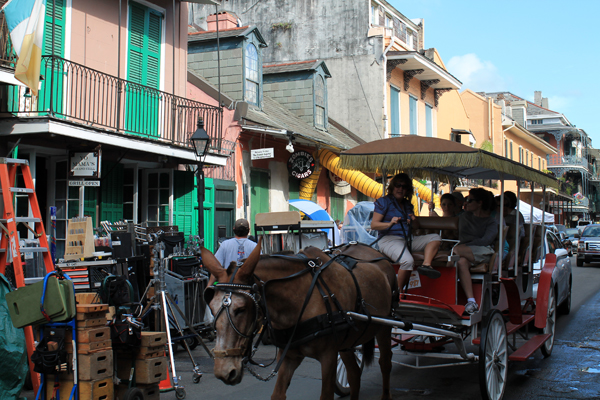 Strolling into Crabby Jack's at 2 o'clock on a Tuesday, I thought we'd be catching the tail end of the lunch crowd. Not so much! But the staff and the crowd were all good natured, and the family style seating means you really hope the guy before you cleans up after himself. They must raise 'em right in New Orleans, because we had no problem bagging a seat before our po'boys were ready for devouring.
James indulged in a french fry po'boy with extra gravy. That's right, folks. Bread, french fries, and brown gravy. My man's lunch of choice. According to him, he'd do it again in a heartbeat. Only, he'd ask for more gravy. *eye roll*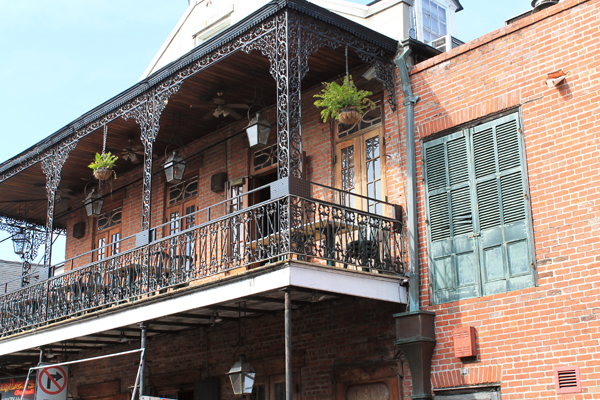 This trip we also had the chance to savor a meal at Jacques-Imo's, sister restaurant to Crabby Jack's, both owned by Jack Leonardi. Amanda'd been raving about Jacques-Imo's for a while, so I was glad to get over and try it. Not to be missed? The Shrimp and Alligator Sausage Cheesecake. Yes, I did say Shrimp and Alligator Sausage cheesecake. My mouth didn't know what to do with all that intense flavor surrounded by silky savory cheesecake. It is phenomenal!
I can also personally attest to the Fried Green Tomatoes with Shrimp Remoulade, and I may have imposed a tax when James's Fried Chicken Platter showed up at the table. His fine? One drumstick. Worth the dirty look I got, people. Worth every ounce of resentment he may have felt. Jack Leonardi knows how to fry him some chicken!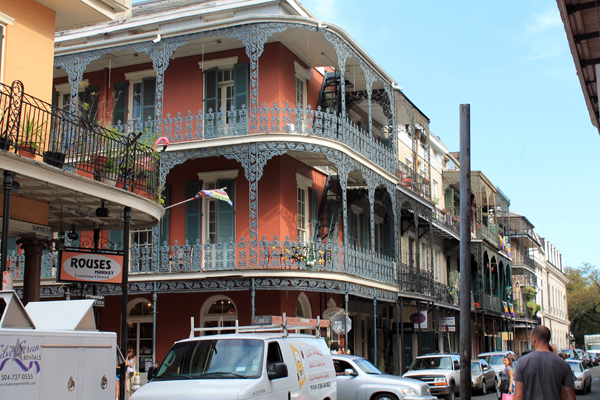 We also did things other than eat, like wander around the French Quarter, toured the Hermann-Grima House, and found ourselves on Bourbon Street at 10 minutes to 1 a.m., when it looked like things were just getting started. If you can't tell, I was very very grateful for my husband's forward planning and that courtyard-facing room.
It's very easy to simply lose yourself in the architecture of the French Quarter. So much so that James and I didn't even get a chance to go to the Garden District at all! It's top of the list for our next trip down South.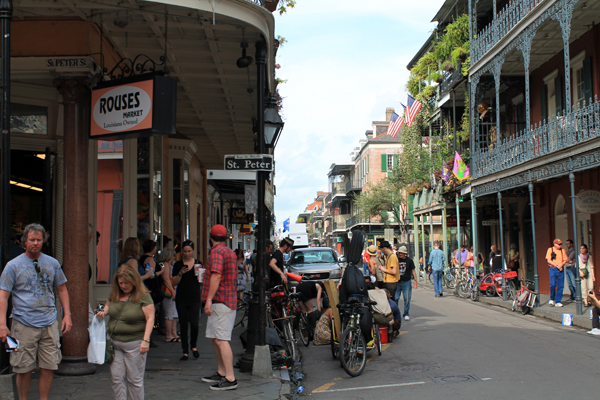 If you're thinking of a quick getaway or Spring Break, New Orleans should be on your short list of places to go. There's live entertainment everywhere, every night (and on most street corners)! Culture is everywhere – from museums and house tours to bayou tours and even movies being filmed. I kid you not, we walked right past Morgan Freeman (or as James calls him, God) filming something on Decatur Street.
From the French Quarter, you can take Street Cars pretty much anywhere you'd like to go, making it an economical city to travel in. If you do a little research, you can find parking garages that will give you in-out privileges. This means for a flat fee, you can come and go from the garage as you please as well. We did this, parking a block away from our hotel – and we saved $20 a day on valet parking.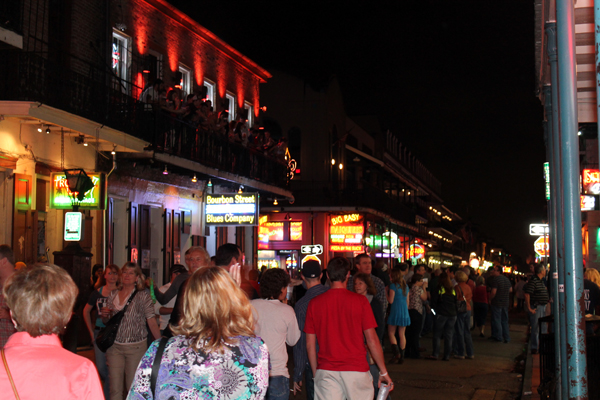 Barring Philadelphia, I've never seen a city so filled with art as New Orleans. Every mini gallery we stepped in, I wanted to buy *everything*. I fell in love with local artist Jamie Hayes. We picked up three prints to hang in our bedroom featuring very fat, very colorful cats. I can't wait to get them up!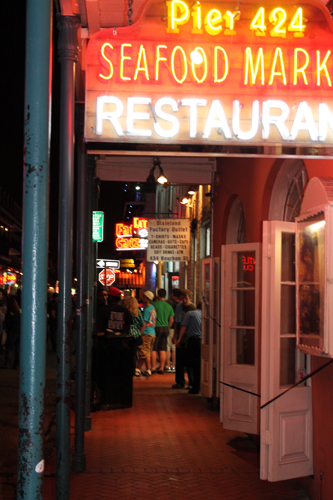 Nearly 7 years on, you can still see the effects of Hurricane Katrina when you step outside the French Quarter. While it is heart breaking, it is also important to witness. Go to New Orleans. Drink a daiquiri as you wonder through the French Quarter, and do what you can to support the local artists. Let's keep this city alive!
---

Disclaimer: Nothing about this post is sponsored. All opinions are my own, and the trip was paid for out of our own pockets.[wpurp-searchable-recipe]Bluebonnet Adventures: New Orleans! – – – [/wpurp-searchable-recipe]