I may be in the minority here, but I love hot chocolate any time of year. There's just something so alluring about that drinkable chocolate goodness.. I can't help myself!
I think maybe my Keurig may have something to do with this. Ever since we first got our Keurig, I've been a huge fan of the Cafe Escapes line.

When we originally became Keurig owners, the only Cafe Escapes offering happened to be Milk Chocolate Hot Cocoa.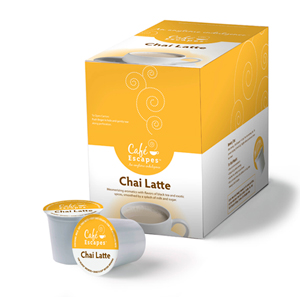 Quickly they added Cafe Mocha, Chai Latte (The Brit's favorite), and most recently, Dark Chocolate Hot Cocoa.
Dark Chocolate Hot Cocoa is my absolute favorite. It is SO luxurious and indulgent – but only 60 calories! (Before I add a dollop of whipped cream, that is.)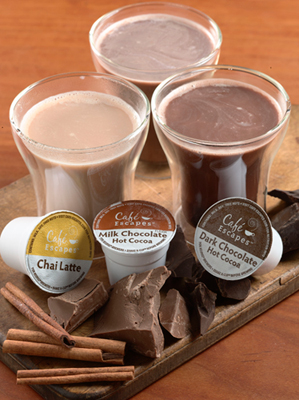 There's something to be said for adding a little indulgence to your day, whether it be in the form of Cafe Escapes k-cup packs, or creating a mini spa day for yourself.
Have you heard of BirchBox yet? I can't believe no one thought of this ingenious idea before.

BirchBox is quite simply, a Beauty Box of Win. For $10 a month, you receive 4-5 generously-sized samples of luxury brand beauty products. Everything from hair care, skin care and make up to fragrances.
I don't know about you, but I really hesitate to make a major purchase of a beauty product before I know it really works for me. BirchBox allows you to try lots of different products, and if you find something you love, you can purchase more of it through their site, and earn loyalty points for doing so.
But Birchbox is so much more than that!
– An online mini-mag filled with how-to videos, articles, and tips from the pros
– An online Shop filled with the best skincare, haircare, makeup, and more – we've done the editing for you!
– Birchbox Points, a super generous rewards program – so easy to earn, track, and redeem points
– Great shipping offers on full-size orders, including free shipping on monthly product picks, and all orders $50+
I always love being a K-Cup Ambassador, but this month is especially fun. Cafe Escapes and BirchBox have teamed up to create a whole lot of pampering for all of you.
The winner, as chosen by random number generator, of the 1 year BIRCHBOX subscription is this comment
Congratulations, Gidget!
Even if you didn't win, you can still save on all your Green Mountain Coffee and Cafe Escapes purchases with the coupon below, good until Leap Day. Thank you to all who entered!
In addition to the chance to win a BirchBox membership, everyone gets:
15% off all orders on GreenMountainCoffee.com PLUS free shipping!
Use code AM0016-3598 at checkout.
Discount is valid on orders placed through February 29th, 2012. Discount does not apply to Cafe Express orders.

You have up to five chances to win! To enter:
Leave a comment telling me which of the four Cafe Escape flavors you're most excited to try.


To get extra entries, you can:

Follow @cafeescapes, @birchbox and @BluebonnetBaker on Twitter. Tweet the following phrase:I just entered to win a year of @birchbox beauty from @cafeescapes & @BluebonnetBaker! http://su.pr/2lII9E #giveaway #YourPerfectCup

You must leave a comment here telling me you tweeted.

Follow Cafe Escapes on Facebook. Leave a comment here telling me you did so.
Follow BirchBox on Facebook. Leave a comment here telling me you did so.
Follow Bluebonnets & Brownies on Facebook. Leave a comment here telling me you did so.


---

Important Details:

-This giveaway is open to USA residents only and will run until Friday, February 3rd at 11:59 pm EST.
-Winner(s) will be generated via a random number generator software program. Winner will be notified via the contact email provided on the comment contact form.
-Winner(s) will have until 2/5/12 to claim their 1 year BirchBox Membership or we will choose another winner.
-Winner will receive a 1 year BirchBox Membership.

Disclosure:

This giveaway is provided to you by Cafe Escapes. The views and opinions expressed by Amber Bracegirdle on Bluebonnets & Brownies are my own, and based upon my experiences with Cafe Escapes K-Cup Packs. I was provided all 4 Cafe Escapes flavors free of charge as part of my partnership as a Keurig K-Cup Ambassador. I do not have any experience with BirchBox personally, but I think it's a really cool idea. The photos above were graciously provided by Cafe Escapes.

[wpurp-searchable-recipe]Giveaway: Cafe Escapes and BirchBox – – – [/wpurp-searchable-recipe]
Men's Hair
Stock Systems
Accessories
Wholesale
ABOUTNon Surgical Hair Replacement Systems for Men and Women
Founded in 2008 by Lukee Li, NewHairLine believes that non-surgical hair replacement systems should be affordable to everyone and provide the most natural looking "New Hair Line"
NewHairLine has revolutionised the hair system industry by cooperate with hair salons and stylists over the world in order to provide the most natural hair systems.