Banana Yeast Bread is a totally different way to think about "banana bread". With a cinnamon brown sugar swirl, you may never go back to quick bread again.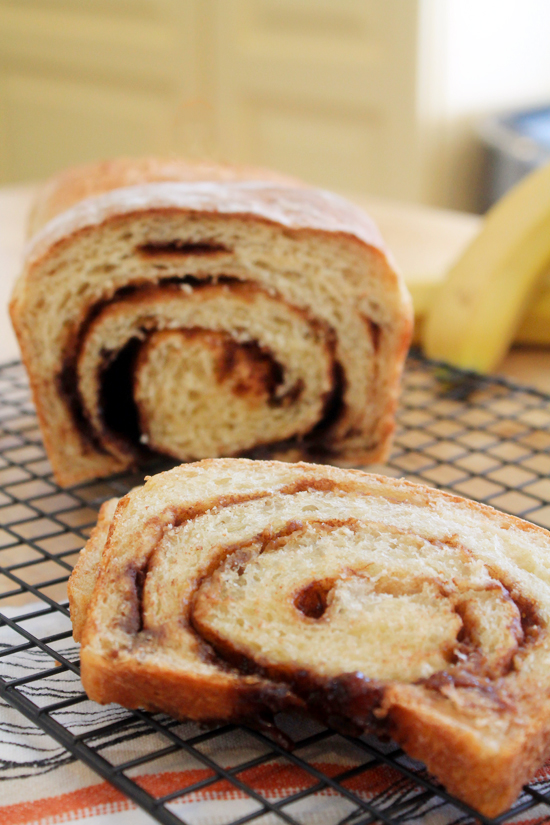 Call me crazy, but I'm kind of over banana bread.
I mean, I've made Strawberry Banana Bread, and Maple Cranberry Banana Bread, and even used coconut oil to switch up the standard banana muffin.
I feel like there's only so many times you can look at the black bananas on the counter (how does that keep happening?), whip up a quick bread, and actually have people eat it.
If I'm honest, I think James and his coworkers are quite over banana quick bread in its many forms too.
The truth is, this post has been two weeks in the making. Four attempts at bread-making, three of which failed spectacularly.
Why do I tell you this? Not to scare you away from yeast, that's for sure.
Rather to point out a part of bread-making that may be often overlooked – you need to make sure the recipe you're attempting to make is appropriate for the size of pan you have.
I didn't think an extra inch in pan size could really make a difference, but I'm here to tell you, friends, that if the recipe says you need an 8×4 inch loaf pan, that's what you need.
This particular recipe, for Banana Yeast Bread, uses a 9×5 inch loaf pan, which seems to be the standard for most commercially sold bread pans.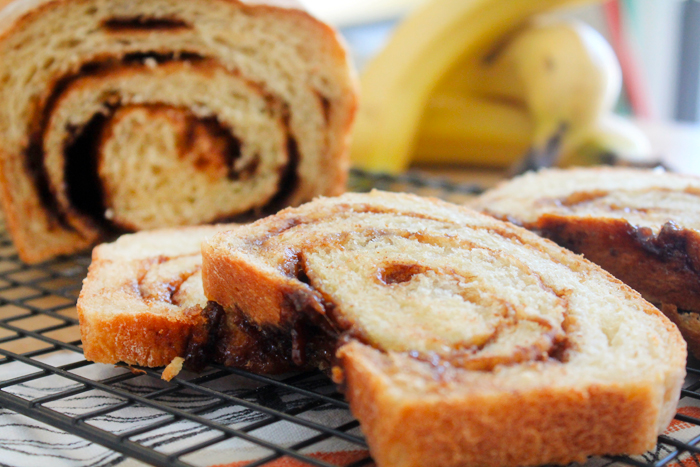 Now let's talk about this swirly, sweet, golden-brown loaf of bread for a minute. At first glance, it's quite unassuming.
Sure, there's a pretty curlicue of cinnamon brown sugar. But until you taste this bread, you aren't expecting the flavors that pop.
On day one, I will admit, this bread did not taste overly of bananas to me.
Just a sweet yeasted bread with a hit of cinnamon and sugar that toasts like that's the only reason you made it (which, let's face it, I did).
On day two, hello bananas! I'm here to tell you, if you didn't already know, that bananas and cinnamon are a match made in heaven.
Toasted to perfection, slathered in creamy butter with just a little salt.
Good golly, breakfast is my favorite meal of the day for a reason.
The Brit gives this bread two thumbs up, especially when toasted. I'll say it again – this a loaf of bread that you make specifically for toasting.
It's okay un-toasted, but reaches award-winning breakfast heights if you let it get all crunchy-chewy-golden-gorgeous.
I didn't find the actual recipe any harder to make than a quick bread because I let my stand mixer do the kneading for me.
The only thing you'll have to do differently is let it rise, and that's a totally hands-off experience anyway.
Now about that toaster – it seems a little silly, but watching toast brown is actually really fun.
Getting to that just right point of golden-ness is something that makes me really happy.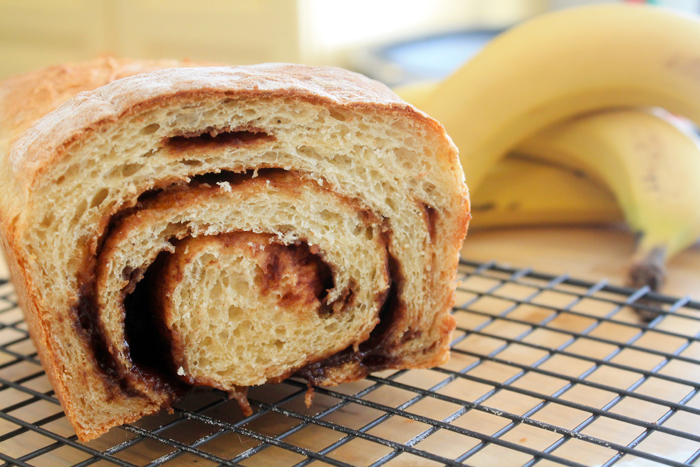 Funny story about toast involving my sister-in-law, Sophie: Twelve years my junior, Soph is most definitely the baby of the entire family (not counting Evan), and is very particular about her toast.
Or as James and I like to call it, warm bread.
Anything past the slightest tinge of gold and Sophie considers the bread burnt and starts again.