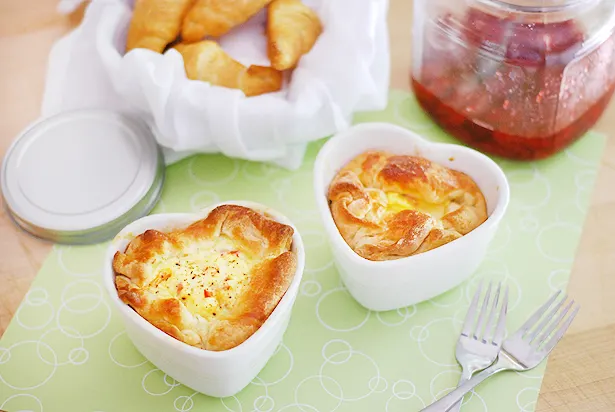 Since we moved out into the 'burbs of New Jersey, James and I have had sort of a weekend tradition going on. We go to breakfast at Panera Bread, usually on a Saturday.
Now don't get me wrong – I love nearly every single thing on Panera Bread's menu – but I had never really settled on a "go-to" breakfast item until a few weeks ago when I suddenly noticed the baked egg soufflés in their baked goods case.
How I missed these before, I don't know. But they are, as far as I'm concerned, breakfast perfection. My favorite is the Ham and Swiss Baked Egg Soufflé.
The right amount of protein, plus the sweet flakiness of croissant? P-E-R-F-E-C-T.

It kind of bums me out that you can only get these little eggy baskets of win for breakfast. I'd love to be able to get them for dinner too. That's when I decided to try and make them at home.
Last Saturday, I set out with a copycat recipe created by author Todd Wilbur for Panera's Spinach Artichoke Baked Egg Souffle.
Not being a fan of artichokes, I knew I had to recreate the Ham & Swiss version if I could.
For the Brit's soufflé, I added extra black cracked pepper and minced fresh red pepper. As he devoured his breakfast about half an hour after I started out, the words "perfection", "glorious", and "magnificent" left his lips around rather large bites of food.
I don't think he was even talking to me, but to the soufflé in his hands. I think he might just be a fan.
We still love Panera's version, and won't be leaving behind our weekend breakfast traditions any time soon, but now I can have my Ham & Swiss Baked Egg Soufflé for dinner if I want too.
That makes me one happy camper.
I think you'll love them too. You can add anything you want to the egg mixture.
Think of it as an omelet inside a croissant, if you want. The ingredient world is your oyster, my friend.
But try Ham and Swiss at least once. It's a classic combination for a reason.