For the past four years, I've been harboring a not-so-secret addiction: my Keurig. If you know me in person, or follow me on Twitter at all, you already know my deep and unabashed love for all things Keurig and Green Mountain Coffee.
I've talked about them so much and so often that at a recent Home Event where Keurig PR people were in attendance, I kinda sorta got celebrity-like recognition. "Oh, Amber! Of course we know who you are!", I was told. It kinda made me blush!
It's important to me to do my part as a Keurig K-Cup Ambassador to tell you why I love their products. So let me tell you a story:
Four years ago, I was on a pot-a-day coffee addiction. Only, I'd get about 2 cups in, and the coffee would go kinda cold and greasy, even when I reset the burner on the coffee pot we had at the time. James had been doing a bunch of research, and was really pushing us to buy a Keurig.
"You're crazy!" I'd say. "It's too expensive!" – but he persisted, and that year just before Christmas, we bought a Keurig. I fell in love hard and fast, folks.

It's not too expensive, and let me tell you something: The fair trade and organic coffee, plus the freshness of that one-cup brewing? You're worth it.
One of my most favorite things about the Keurig is the matching relationship with Green Mountain Coffee. When you're a member of Green Mountain's Cafe Express (repeating scheduled delivery of coffee), they automatically warranty your Keurig for as long as you're a member. No matter how old that Keurig is, if something malfunctions, they'll help fix it or replace it – for free.
Last year, after nearly 7,000 cups of coffee brewed, our original Keurig had a few problems. It still worked, but it just wasn't happy about it. I called Keurig and GMC, and a few days later, a brand new B-70 arrived on our doorstep, free of charge. We didn't even have to pay for shipping. Now that's what I call customer service!
The other thing I love about this marriage of coffee geniuses is all the wonderful flavors available in K-Cup portion packs.
Today I want to highlight for you one of my top favorites: Donut House.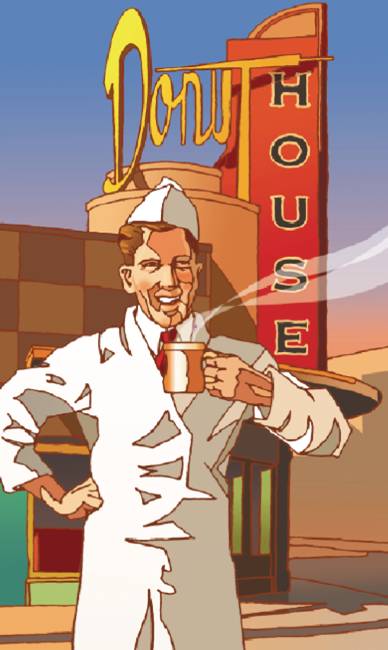 All photos courtesy of Keurig
Donut House Coffee is meant to mimic your favorite donut shop flavors – the strong and steady blends that get served in those old chipped mugs at 3 a.m., plus some of your favorite donut flavors too.
I'm especially fond of Cinnamon Roll, and the Chocolate Glazed Donut really and truly does bring to mind a cakey, sweetly crunchy donut like you'd find at your favorite donut stop.
If it wasn't already clear, Keurig and Green Mountain Coffee are incredibly generous when it comes to their customers.
From today, August 15th, through September 25th, 2011, use the coupon below to get 15% off your entire purchase at GreenMountainCoffee.com PLUS free shipping with no minimum purchase.
AM0014-3598
This coupon does not apply to Cafe EXPRESS orders.
I'd love to hear what your favorite Green Mountain Coffee flavor is, or one you've been dying to try![wpurp-searchable-recipe]Keurig K-Cup Ambassador: Donut House Coffee – – – [/wpurp-searchable-recipe]