Big news on the Keurig front, y'all. Okay, so it's no secret I have a love of all things Keurig and Green Mountain Coffee. I've been an ambassador before, their recipe developer (see my favorite to date – Double Black Diamond Pudding Pie) and even before that I waxed poetic about Vermontitude.
I have to be honest, if we didn't plan to move back to Texas eventually, Vermont would be at the top of my list instead. It's one of the many reasons I adore Keurig and Green Mountain Coffee – because they come from Vermont.
When we travel, The Brit will tell you that I get most grumpy about bad coffee. There is just nothing worse than waking up and having no access to good coffee. I've even been known to drag our Keurig Mini Plus on road trips.
One year, I even took mine to Big Summer Potluck, because the hotel we stayed in had the WORST coffee known to man. I don't know what it was, but it did NOT taste good. You do not want to see me at a food blogging conference without my coffee, y'all. It ends badly.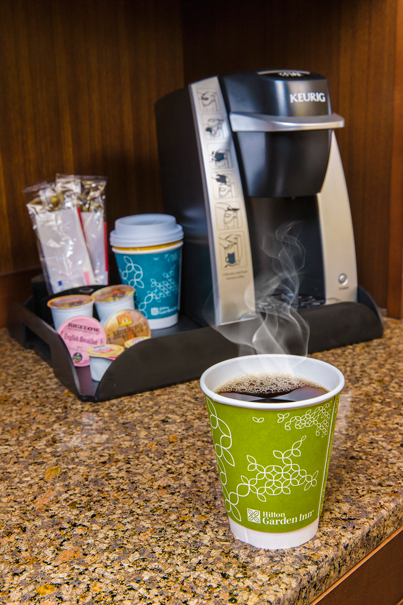 That's why I'm pretty stoked to let y'all know that Hilton Gardon Inn and Keurig have brewed up a sweet new partnership. As of October 1st, 73,000 Hilton Garden Inn guest rooms across the United States now boast a Keurig K130 single cup brewer. That's right – a Keurig in every Hilton Garden Inn guest room. I know where I'm staying when we travel!
"Hilton Garden Inn believes that travel, whether for business or pleasure, should be an enjoyable experience – that's why we're constantly looking for ways to enhance our guestrooms, making them comfortable, convenient, and welcoming," said Adrian Kurre, global head, Hilton Garden Inn. "We heard from our guests that being able to easily make the perfect cup of coffee in their room was an important part of their morning routine to start a productive day, so partnering with GMCR to bring its Keurig single cup brewers to our guestrooms was the perfect solution."
Pretty freakin' awesome, guys.
I know a lot of you may be traveling for Christmas, like the Brit and I are. I hope you'll consider Hilton Garden Inns more often, because I certainly will.
To celebrate this new partnership, Keurig and Green Mountain Coffee are offering one Bluebonnets & Brownies reader a Keurig K130 single cup brewing system of their very own!
Enter to win:
a Rafflecopter giveaway
---
I have not been compensated for this post. I am an avid user of my own Keurig, and all opinions stated above are my own. The giveaway is provided to you by Keurig and Green Mountain Coffee. Some photos have been provided by Hilton Garden Inn, Keurig and Green Mountain Coffee. See Rafflecopter widget for full terms & conditions.[wpurp-searchable-recipe]Win a Keurig! – – – [/wpurp-searchable-recipe]