There's not much my husband likes better than tiramisu. I don't know what it is… the silky mascarpone, the decadent coffee and rum (or wine), or the chocolate. Or maybe it's how they all sing together in perfect dessert harmony.
One thing's for sure, tiramisu is his favorite dessert, bar none. Even given a choice between carrot cake (his favorite cake!) and tiramisu, he'll choose tiramisu every time.
It's definitely up there on my scale too, and I think that scale just got tipped with these Tiramisu Brownies. This month, as part of the Keurig K-Cup Ambassador program, we were sent samples of Barista Prima Italian Roast coffee, plus a recipe for these luscious brownies, and most of the ingredients to make them.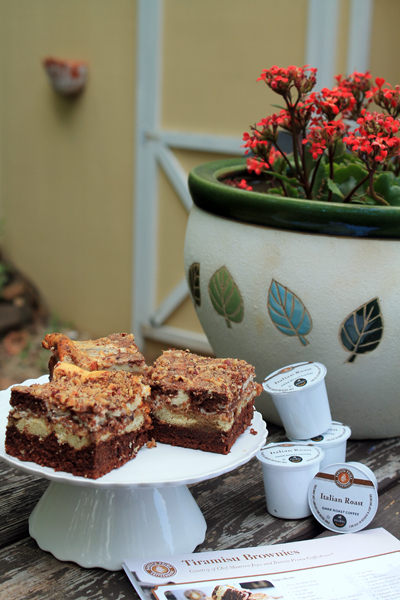 For even more fun, different "mix-ins" were provided: raspberry jam, mint extract, and fresh chopped hazelnuts.
Maybe I'm a bit of a traditionalist, but I didn't think I'd care too much for mint or raspberry in my tiramisu, so I added in a whole tub of crunchy chopped hazelnuts. I think they add the perfect crunch to go along with cakey brownie, lady finger, and creamy mascarpone layers.
Barista Prima Coffehouse blends are great if you have an espresso lover in the house. They brew up dark and dangerous, and are the magical match to tiramisu, brownies or otherwise.
We'd love it if you'd try these brownies, and Barista Prima blends. We've even got a coupon to get you started!
BARISTA8124

Expires May 31, 2013
*** Please note that this promo code offers 15% off storewide at GreenMountainCoffee.com, and free shipping on orders containing at least one K-Cup® pack of Barista Prima Coffeehouse®. The code is valid now through May 31st and cannot be combined with any other keycode discount.***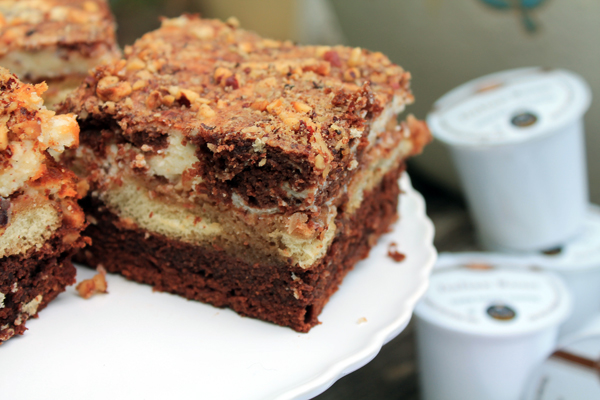 Tiramisu Brownies with Hazelnuts
makes 15 large, extra decadent brownies
adapted from a recipe by Chef Maureen Joyce
Ingredients
1 11.5 oz bag of dark chocolate chips
1 cup butter, softened
1 cup granulated sugar
4 whole eggs
4 egg whites
1 cup cake flour
8 oz Mascarpone cheese, room temperature
8 oz cream cheese, room temperature
1/4 cup granulated sugar
4 egg whites
2 teaspoons vanilla extract
1 package soft lady fingers
1 cup Barista Prima Coffeehouse Italian Roast Coffee, cooled
2 tablespoons dark rum or Marsala wine
1 cup chopped hazelnuts, divided (optional)
Directions
Using a microwave safe bowl, melt chocolate chips in 30 second intervals. Stir vigorously after each interval and then microwave again until all chocolate is melted and you have a smooth consistency. This took me about 2 minutes. Allow the chocolate to cool.
Add the chocolate to a large mixing bowl or bowl of a stand mixer, then add softened butter. Beat the butter and chocolate together on medium speed until well combined and smooth. Add 1 cup of sugar, 4 eggs, and 4 egg whites and beat again until the batter is well combined and smooth. Scrape the sides of the bowl often.
Add one cup of cake flour to the batter and mix on low speed or by hand until just combined.
Preheat the oven to 350°F and heavily spray a 9×13 cake pan with cooking spray.
Reserve one cup of brownie batter, then pour the rest into the cake pan and spread evenly across the pan.
Press lady fingers into the batter just slightly. I used 10 lengthwise (5 at each end of the pan), and roughly 6 widthwise in the middle of the pan. 3 of the widthwise lady fingers had to have the tips broken off so they would fit evenly.
Mix the brewed and cooled coffee with dark rum or Marsala wine. Use a pastry brush to saturate each lady finger with the coffee mixture. Sprinkle 1/2 cup chopped hazelnuts over the lady fingers. Set the pan aside for now.
In a large bowl, combine Mascarpone cheese and cream cheese together. Beat on medium speed until well combined, scraping the bowl often. Add 1/4 cup sugar, egg whites, and vanilla extract, then beat again until you have a smooth topping.
Pour Mascarpone mixture on top of the lady finger-hazelnut layer, smoothing evenly. Dollop the reserved brownie batter over the cheese layer, then use a butter knife to create a swirl pattern through the cheese and brownie mixtures.
Sprinkle the top of the cheese-brownie layer with remaining 1/2 cup chopped hazelnuts.
Bake for 45-50 minutes, until cheese layer has a slightly golden hue.
Allow to cool completely, then cut brownies into 2″x2″ wedges.

Disclaimer: I am a compensated Keurig K-Cup Ambassador, and this post is written as part of that program. All opinions about Green Mountain Coffee and Keurig K-Cup packs are my own.[wpurp-searchable-recipe]Keurig K-Cup Ambassador: Barista Prima Coffeehouse – – – [/wpurp-searchable-recipe]