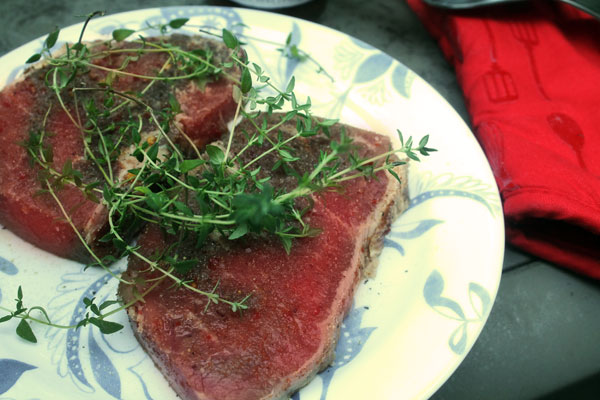 I'm sure every community has restaurants that are revered for their local cuisine. South Texas is no different. Whispered in hushed tones of reverence, there are certain barbecue joints that have earned the right to simply be known as the place.
Stubb's Bar-B-Q on Red River Street in Austin is one of those places. A lot of people don't know that Stubb was a real person, and he fired up his first barbecue joint in Lubbock in 1968. In 1980, he moved the place to Austin, and true to the "Keep Austin Weird" culture, quickly became known equally for their excellent live music as their delicious 'cue.
When you visit Austin, this is a restaurant you have to run, not walk to. Especially around SXSW time – get there early and often, or you may just find yourself crowded out by the likes of Sheryl Crow or Matthew McConaughey, both known Stubb's fans.
I've desperately missed barbecue and steaks like you can find at Stubb's since moving away. In fact, it's one of the reasons this little blog exists. For years, the only way I've been able to get a decent Texas-style sauce, marinade or rub that isn't full of high fructose corn syrup or funky ingredients is to make it myself. Then, about a year ago, I started seeing Stubb's sauces at my local Target. Before long, the marinades and rubs joined the line up.
When Stubb's BBQ Sauce contacted me about a review, I couldn't help but say yes. Not only because I wanted to give you guys a chance to win some perfect Texas sauce, but because I've been buying this stuff on my own for the last year. I'm sorry it's taken me so long to tell you about it!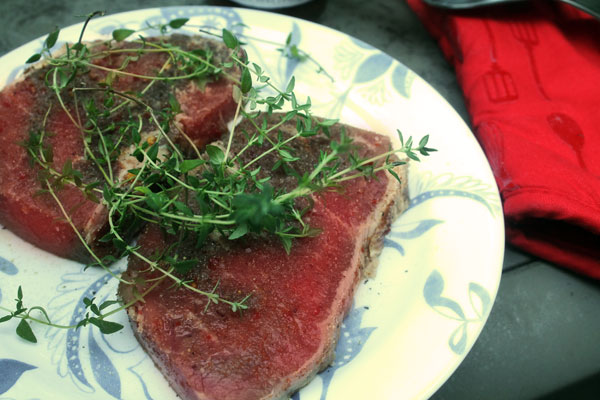 Things to love about Stubb's BBQ Sauces & Marinades:
Real ingredients, from start to finish.
Authentic Texan recipes, from Stubbs himself.
Multiple recipe uses and meals out of every bottle
The only nationally distributed brand that does not contain High Fructose Corn Syrup
The only nationally distributed brand to be certified Gluten Free
There's a little Stubbs quote under the cap of every bottle, letting you get to know the guy that started it all. A true Texan original.
Today I've got a recipe for you, a full meal, really. A steak, some summer vegetables, all tossed on the grill together. No mess beyond the plates you eat on, and minimal clean up. That's my kind of dinner these days. At 34 weeks pregnant, the less post-dinner cleanup the better, because it's not long before I'm passed out on the couch. Especially when I've just eaten a tender, flavorful steak.
I've also got a way for you to get some Stubb's of your own (you know, besides rushing to your nearest grocery store to buy some). Stubb's BBQ Sauces has generously provided a lovely gift basket for giveaway today. Everything you need to get your grill on, and show your love for Stubb's Bar-B-Q too. Thanks, guys!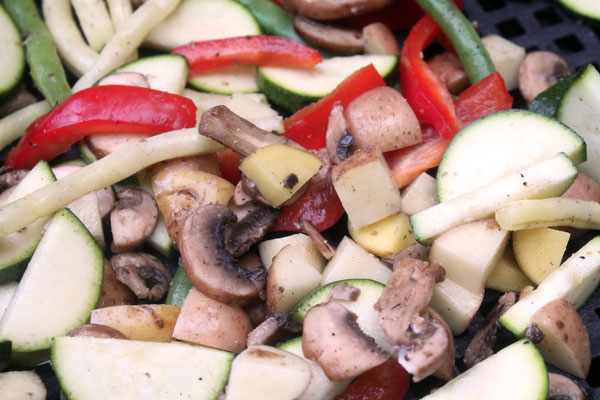 Stubb's Bar-B-Q Steak Grilled Summer Vegetables
makes 2 steaks and sides
Ingredients
(2) 6 oz Top Sirloin Steaks
Fresh Thyme for garnish and flavor
Kosher Salt
Pepper
For the grilled vegetables
1 large zucchini squash, diced into 1″ pieces
1 large yellow crookneck squash, diced into 1″ pieces
1 red pepper, diced
1/2 cup wax beans
1/2 cup green beans
1 pint button or cremini mushrooms, sliced
3 small assorted potatoes, skins on, diced into 1/2″ pieces
3 tablespoons canola or olive oil
1 teaspoon granulated garlic
kosher salt and pepper to taste

Directions
Pierce steaks with a fork repeatedly to allow the marinade to do its work throughout the meat. Place the steaks in a zip-top bag, and cover with Stubb's Bar-B-Q Beef marinade. Seal the bag, pressing out excess air, and refrigerate for at least 2 hours. After that time, remove steaks from marinade, allow to come to room temperature, then season with kosher salt and pepper. Chop fresh Thyme and set aside for garnish.
Preheat grill to 400°F, and prepare vegetables.
Chop all vegetables as described. Place in a large bowl together. Add oil, granulated garlic, salt and pepper. Toss with your hands or a spoon until all vegetables are evenly coated in oil and seasonings.
Adding vegetables or steak to the grill first will depend on what temperature you like your steaks.
As a general rule, a 1 1/4″ Sirloin steak will take 8 minutes per side for medium rare. The vegetables take about 20 minutes to cook through, so add those in a grill pan first. Cook for 4 minutes, then add steaks to the grill.
Flip and stir the veggies occasionally to get an even sear. Do not flip the steaks until the half-way mark for your done-ness point.
When the steaks are done, the vegetables should be too. Dish up onto two waiting plates. Season with more kosher salt and pepper if desired, and chopped fresh Thyme. Enjoy!
Disclaimer: This giveaway is open to US Residents only, and is provided to you by Stubb's Bar-B-Q Sauces. I was not compensated for this post. All opinions about Stubb's Bar-B-Q Sauces, Marinades and Rubs are my own, based on my experiences with the product. I did receive 3 coupons for free product, but I have been purchasing Stubb's products for years on my own. This giveaway is provided to you by Stubb's Bar-B-Q. There is an Amazon Affiliate link in this post. Should you purchase something from Amazon after clicking the link, Bluebonnets & Brownies might receive a few pennies in referral income. Thank you!
[wpurp-searchable-recipe]Stubb's Bar-B-Q Steak and a Giveaway – – – [/wpurp-searchable-recipe]