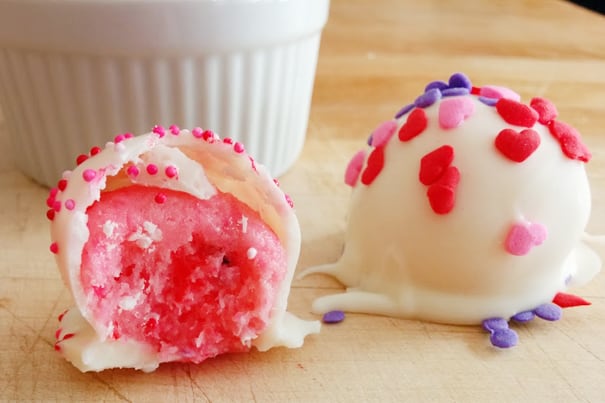 Strawberry cake mix truffles are a super easy Valentine's Day treat. They'll have everyone oohing and ahhing, in between bites.
It just so happens that today is my birthday. Being born so close to Valentine's Day, I often ended up with strawberry flavored birthday cakes. Not that I mind. You might be anti-cake mix. Most of the time, I prefer from scratch cakes, myself. But there's something about strawberry cake from a box that I simply can't walk away from.
Wanting a sweet little treat for my Brit this year, who happens to love strawberry cake as much as I do, I decided to experiment with a box of Pillsbury pudding-in-the-mix strawberry cake mix, some cream cheese, and enough Valentine's Day sprinkles to make even Elle Woods jealous of the pink.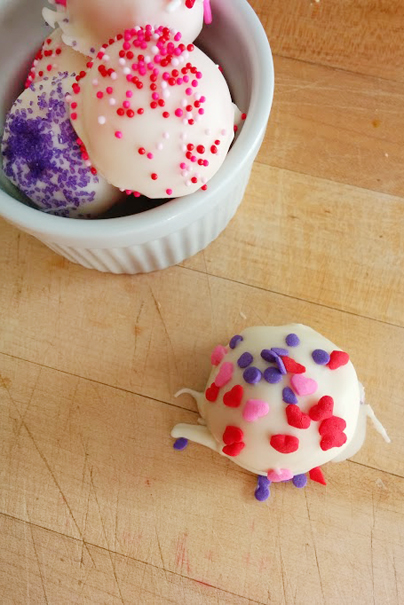 Now I know, a lot of people don't consider cake mix an ingredient. Which is fine. To each his own. These little cake mix truffles are ridiculously sweet and decadent, and couldn't be easier. When you need a few tricks up your sleeve for a quick Valentine's Day party treat? This is it. They're not any more work than making and frosting cupcakes, and in fact use less bowls. But their wow-factor is pretty huge.
I mean, you made candy. At least, that's how it looks to little kids and husbands. That's good enough for me, you know? Not to mention biting through that candy-shell provided by Candiquik is completely addicting. As for sprinkles? Everything is better with sprinkles, amiright? I put sprinkles in the filling and on top of each truffle. Because: sprinkles.
I have yet to find an organic strawberry cake mix, but if they exist, let me know! You could also try this with an organic vanilla cake mix and a box of strawberry jell-o. Or just make vanilla cake mix truffles. The sprinkles will do the heavy Valentine's Day lifting anyway.