Did you have a good time yesterday? I hope the day was spent with family and friends, good food and especially, good grilling!
Growing up in Texas, grilling and barbecuing (keep in mind, these are two different things!) is pretty much a way of life. We spend most of the year with favorable grilling weather, so it's a pretty key way to cook dinner at least a few nights a week.
Jersey offers a little less hospitable grilling time, so we make the most of our spring and summers around here. Little known: I taught my husband how to grill. Us Texans take this situation seriously, and my Brit, he was overcooking my steak!

Planning barbecue parties this summer is incredibly easy if you have a Target nearby. Full disclosure: We're huge fans of Target. We have the Red Card, and it's where we do most of our grocery shopping – but we were provided with some of the items in the photos and a $25 gift card to purchase yummies for our barbecue.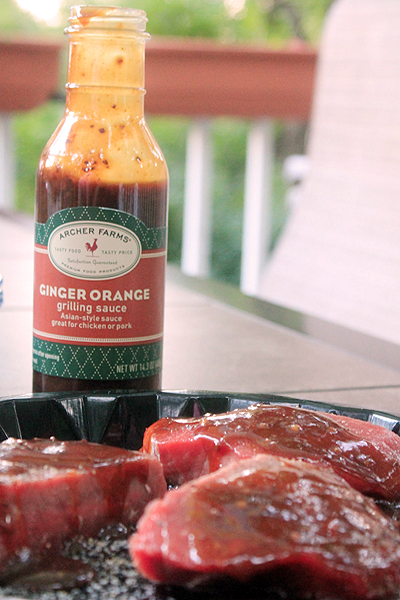 Speaking of yummies, have you tried any of the Archer Farms grilling sauces? We're particular to this Ginger Orange one. It has all real pronounceable ingredients, and the flavors go well on chicken, beef, and pork. Even vegetables!
Now, I normally make my own salsa, but this Cilantro Salsa from Archer Farms is pretty darn good. We dipped and chipped to our hearts' content this weekend, and even mixed a spoonful into scrambled eggs yesterday morning. Full of flavor!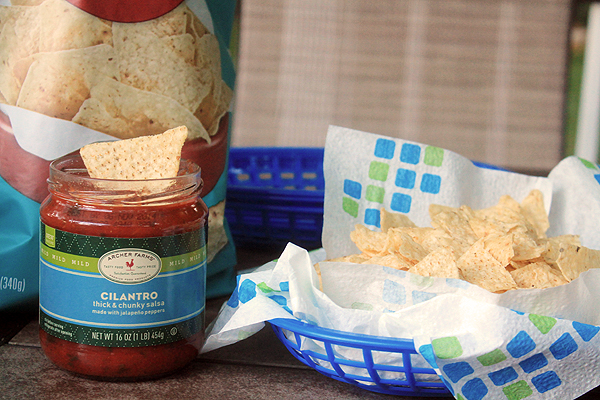 And have I mentioned this new line of goodies at Target? You've got to check out the Simply Balanced labeled food. Organic, all natural, REAL food, and it's really good! I couldn't stop shoving these tortilla chips into my face. They're just right.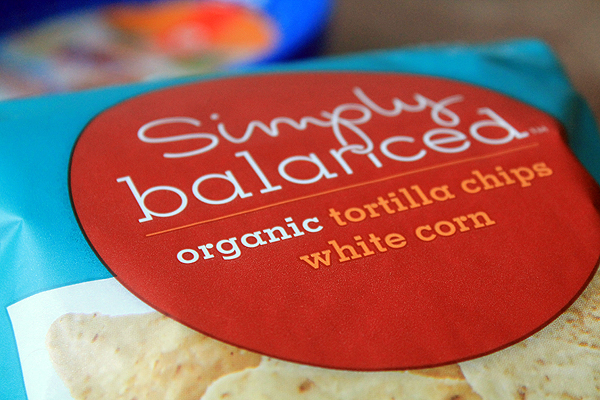 Once you've marinated your steak in the grilling sauce of your choice, place it on a grill that's been heated to about 450°F. This will ensure you get the proper sear on your steak. There is a science to grilling – place only the meat that you want done to the highest temperature on the grill to start.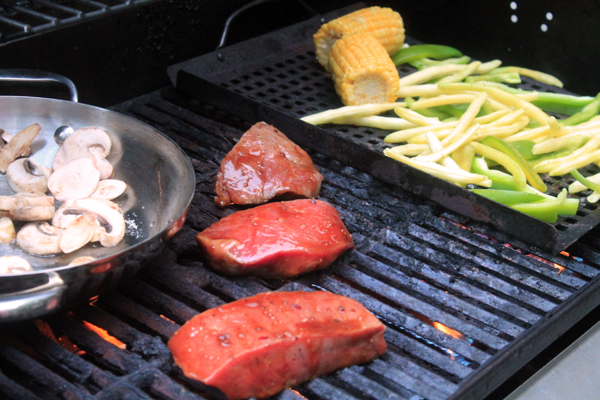 Things to keep in mind:
Only flip your steak once.
Baste your steak in more grilling sauce just before it is finished, otherwise it could burn instead of caramelize.
A 1″ steak takes about 4 1/2 minutes on each side to reach medium rare. It can take up to 14 minutes for well done (total)
Saute vegetables in a pan directly on the grill to save time. Add them to the grill based on the time your steaks will be done.
Keep the grill closed as much as possible. You lose heat every time you open it.
Set the table while your food cooks.
Use jelly roll baking sheets to take all your grilling goodies outside. It makes for quick and easy cleanup when you're ready to head back inside.


A well set table never goes amiss. Include straws, even if you're drinking ice water. They're just fun!


This giant grilling spatula from Target is pretty awesome. It has a bent side to make scooping easy. Loved it for serving up these grilled wax beans and green peppers!


Remember, only baste your steak again a minute before they're ready to come off the grill!


Now that's DINNER!


Including some fresh raw vegetables, like tomato slices, offers texture and variety to your grilled dinner. Sprinkle with a little Kosher salt and pepper, and you're in heaven.

Target would love to help you grill up some favorites of your own before Summer is gone! How about a $25 Target Gift Card for one lucky B&B reader?

a Rafflecopter giveaway
[wpurp-searchable-recipe]Grilling Season with Target – – – [/wpurp-searchable-recipe]