Hey y'all! Monday mornings are pretty gross most of the time, so this morning, I thought maybe I could brighten your day with a super fun, super generous giveaway.
You've heard of Magimix by Robot-Coupe, right? You know, the awesome folks behind the Vision Toaster (You can actually watch your toast toast!) and the beautiful 16 cup 5200XL 16 cup food processor you see up there.
Pretty much anything you can imagine making in a 16 cup food processor, this bad boy can handle. So far I've made pizza dough, pie crust, salsa, and fruit puree for that pie crust.
Something I really love is that with three different sized bowls (they fit inside each other), I was able to make my pie crust, and easily swap to another bowl to make the fruit puree without stopping to wash and dry the original bowl.
Bonus? This giveaway includes the Juice Extractor and SmoothieMix attachment. Instead of having two machines to take up cabinet space, with just one little attachment, this food processor does double duty as a fantastic juicer and smoothie maker.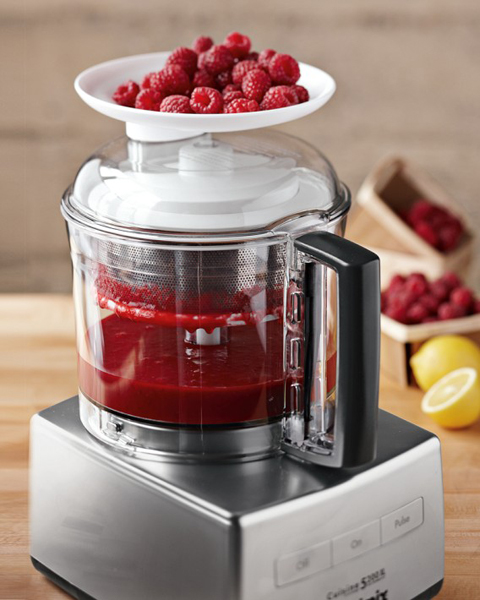 The other day I made a juice of watermelon, canteloupe, and honeydew. I might have thrown in a little kale, but don't tell the kids. They'd never know. The texture was perfect, not pulpy. And all those sweet melons mean you can add the kale without giving up any flavor.
Previously, I'd only ever seen Magimix by Robot-Coupe products at super specialty websites. But now, you can get the 16-cup Food Processor in white or brushed chrome and the Juice Extractor & SmoothieMix attachement (sold separately) at Williams-Sonoma.
Or, you can get them as a set from Chefs' Catalog, in white or an exclusive polished chrome.
Seriously, y'all – you're going to love this awesomesauce food processor package!
I'm even more excited to say, this giveaway is open to both the US AND Canada!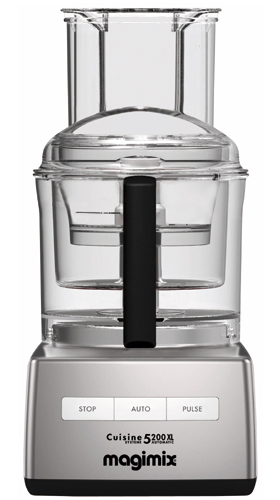 Package includes:
16-cup 5200XL includes 6-cup, 12-cup and 16-cup mixing bowls.
2 metal serrated Sabatier® blades, one for small bowl, and one for the large bowl.
Dough blade. Use to knead bread dough, brioche and pastry.
2 grating discs – 2mm and 4mm.
2 slicing discs – 2mm and 4mm.
BlenderMix attachment. Transforms the food processor into a powerful, fully-functional blender to make soups, consommés, smoothies and pancakes.
Egg whisk. Ideal for whisking egg whites and creams for desserts such as meringues, frostings, and icing.
Citrus press.
Spatula. Custom-made, easy-to-use tool for emptying bowls.
Illustrated recipe book featuring 110 recipes plus DVD.
Storage box.
Juice Extractor & Smoothie Attachment

This giveaway is provided to you courtesy of Magimix by Robot-Coupe. I received the same items described in the giveaway as a review unit. I have not been compensated for this post. All opinions regarding the machine are my own. Please review the terms and conditions on the RaffleCopter widget for full giveaway disclosure. Images provided by Magimix by Robot-Coupe.