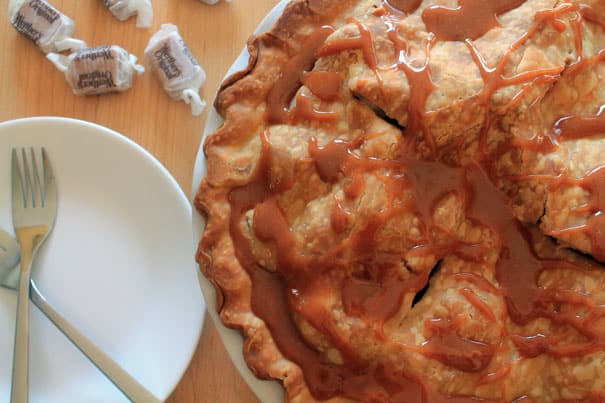 At BlogHer Food 2014 I learned about Zynga and FarmVille-to-Table, the new digital cookbook for big time fans of the super fun game. One of the main reasons I was keen? Farm to table eating is important to me; as a wife, a mother, and simply as a human on an earth that we sometimes use too harshly.
Farm to Table. What does that phrase mean? It means knowing where your food comes from. Perhaps even being friendly with the farmer that grew it.
It may seem like an odd place to find inspiration, but I truly think that Zynga's FarmVille, FarmVille 2, and FarmVille 2: Country Escape are the perfect landscape for getting kids and adults alike to think about everything that goes into farming and food production.
The timing of harvests, the yield of water to crops, making sure animals are fortified by what you grow too – it can be mind-bending in the games at times, and even I admit to making silly mistakes like growing too much wheat, but not enough corn, and then not having enough space to store it all or feed my cows. Thinking of that on a grand, real-life scale? It makes me have even more respect for the farmers that grow my food.
Some of those farmers are just down the road from me. In fact, there's a restaurant local to me that lists the local farms where that day's produce has come from, and I've used it to find my own source of locally grown carrots, green beans, and especially apples.
Upstate New York might be known for their apple orchards, but New Jersey lays claim to quite a few too. Some of these farms even sell local eggs, milk, butter, and bread.
Maybe buying local won't change the entire world. But I like to think it does change the world of my local farmers.
Farm fresh apples, flakey pie crust, and warm, gooey caramel. I don't know about you, but that seems like wholesome, farm-fresh deliciousness to me.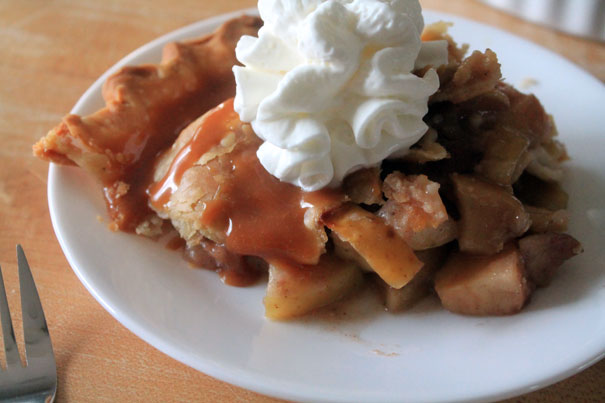 I've decided that I'll submit my Caramel Apple Pie recipe to Zynga's first FarmVille-to-Table digital cookbook. I'm really hoping one of you is standing by, ready to submit a homemade vanilla ice cream recipe too, because that would put this entire situation over the top.
Recipes that make you think of wholesome days spent on the farm, picking apples, carrots and lettuce. Milking cows or feeding chickens, petting goats or running from geese (a memory I actually have from my own great grandparents' farm), these are the recipes Zynga is looking for.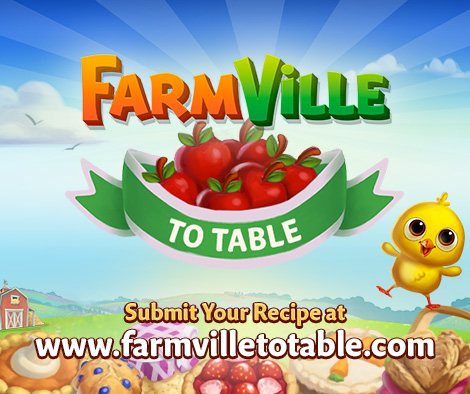 From Zynga's website:
"We are excited to team up with our friends from BlogHer to find the most creative, delicious and fun summer recipes that celebrate the world of fresh, home cooked, farm fresh goods for our FarmVille-To-Table digital cookbook. We know cooking is near and dear to the hearts of FarmVille players. In fact, a recent survey of 18,000 players in FarmVille 2 showed that 84% cook at home and 62% say they want to learn the real-world recipes that they craft within the game.

We look forward to sharing more with you in the coming weeks, but in the meantime, get "crafty" and head over to our recipe submission page to learn more about our FarmVille-To-Table digital cookbook."
It's time to submit! What perfect, farm fresh recipe from your family archives is perfect for the FarmVille to Table Cookbook?