Dark Chocolate Coffee Brownies are any coffee lover's dream. The marriage of coffee and chocolate couldn't be more solid or romantic.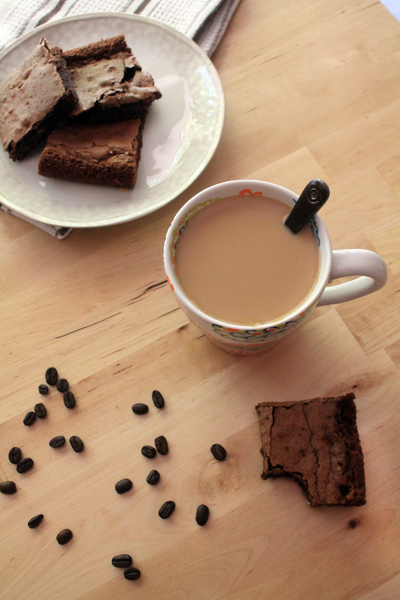 I'm a big fan of all things chocolate and all things coffee. Combine them and I'm head over heels – you only need to look at my very favorite cake of all time,
Chocolate Mayonnaise Cake
, to know it's true.
When the folks at Fair Trade asked if I'd like to talk about Fair Trade and develop a recipe using some Fair Trade products, you know I was on board. I've done so for years now, because I believe in Fair Trade. (Don't miss my Fair Trade Chocolate and Cranberry Muffins and Fair Trade Breakfast Bread!)
I believe in making our world better, in leaving it better than the way we came into it. I think I should do whatever I can to show Evan helping people is important – even little things like choosing one brand of tea, coffee, chocolate, or bananas over another.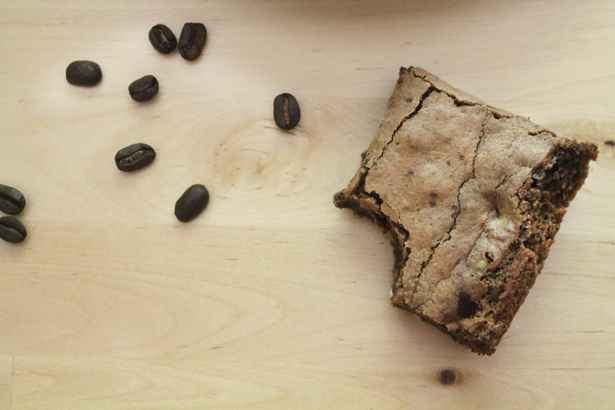 Quite simply, because of the people.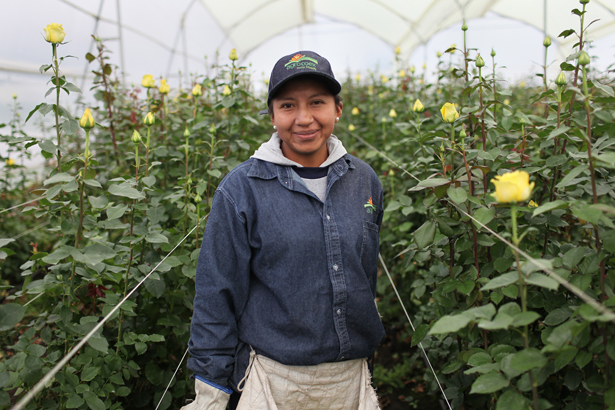 I'd like to introduce you to Maria Quishpe.
Maria is a new mom, she just had a baby in the last eight weeks. But she's also a Fair Trade farmer in Latacunga, Cotopaxi, Ecuador – of Fair Trade Certified roses. She's president of the Fair Trade Prize committee, and this is her third term doing so. She completed her high school equivalent degree through a Fair Trade scholarship.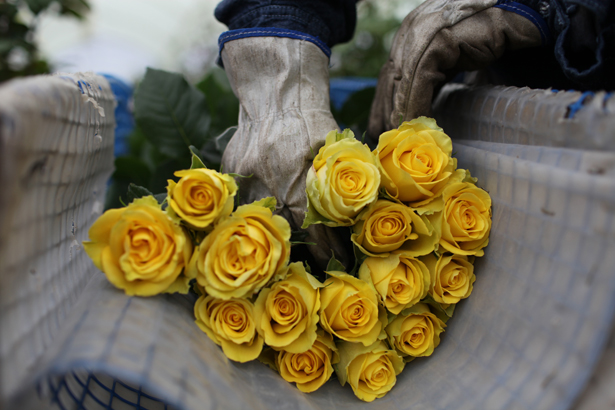 "Our main focus right now is the housing project for 200 families [of Agrocoex employees] in Latacunga. I ask that you please continue to buy our flowers, as each rose represents a step towards our collective dream of improved housing. Each rose is gathered with lots of love. I want to end my presidency with the housing dream as a reality."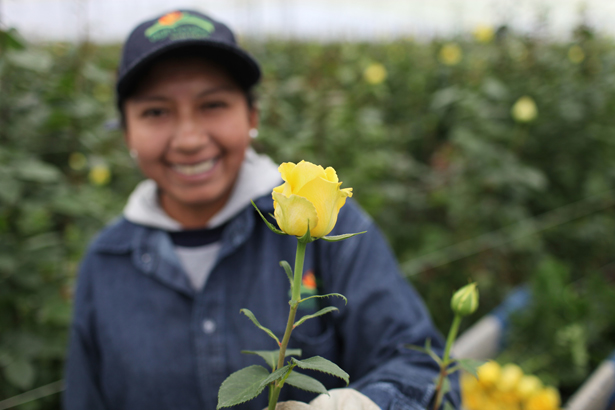 If I could, I'd sit down with Maria over a cup of Fair Trade coffee. She might let me cuddle her newborn, I'd tell her what she already knows – treasure it, it goes by fast. And I'd share these Dark Chocolate Coffee Brownies with her. Because even with a language barrier, we
all
speak the language of chocolate.
To help celebrate Fair Trade Month and get you excited about their products, I'm giving away a whole box of goodies to one lucky B&B reader!
Just leave a comment below telling me your favorite Fair Trade ingredient, and what you make with it or the Fair Trade ingredient.
Brands included in the box:
Dillanos Coffee Roasters Coffee (@Dillanos)
CocoLibre Coconut Water (@CocoLibre)
Guittard Akoma Extra Semisweet Chocolate Chips (@GuittardChoco)
Lake Champlain Unsweetened Cocoa (@LCChocolates)
barkTHINS TM Snacking Chocolate (@RippleBrands)
Rishi Earl Grey Tea (@RishiTea)
Dang Foods Dark Chocolate Covered Coconut (@DangFoods)
Honest Tea (@HonestTea)
Frontier Natural Products Co-op Cinnamon (@FrontierCoop)
Eco Lips Colored Lip Balm (@ecolips)
Alter Eco Deep Dark Sea Salt Organic Chocolate (AlterEcoSF)
Badger Balm (@BadgerBalmUSA)
LÄRABAR Bars (@larabar)
Runa Berry Clean Energy Drink (@DrinkRuna)
SunSpire Coconut Almond Dark Chocolate Bar
Choice Tea Rooibos Chai (@ChoiceOrganicT)
Nourish Organic Shea Butter (@NourishUSDA)
Where Am I Eating? Book by Kelsey Timmerman (@KelseyTimmerman)
---
Disclosure: I was not compensated for this post. I work with Fair Trade because I believe in their mission. All opinions are my own. All giveaway products are provided to you and will be shipped by the Fair Trade organization.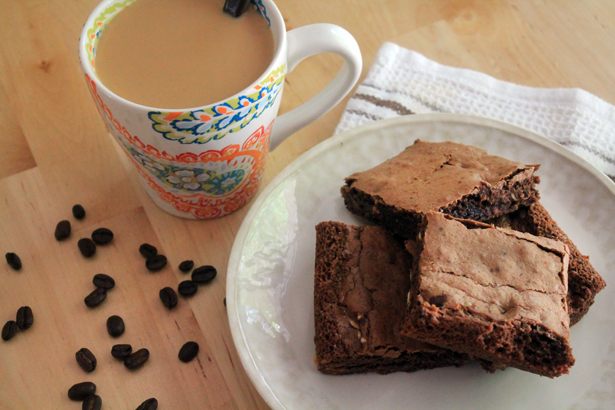 Yield: 9 Brownies
Dark Chocolate Coffee Brownies
Dark Chocolate Coffee Brownies are any coffee lover's dream. The marriage of coffee and chocolate couldn't be more solid or romantic.
Ingredients
1 cup all-purpose flour
1 teaspoon baking powder
1/2 teaspoon kosher salt
1/2 cup butter (1 stick)
1/4 cup Guittard Akoma Extra Semisweet Chocolate Chips
1 cup dark brown sugar
1 tablespoon pure vanilla extract
1/8 cup Dillanos Coffee Roasters Coffee , fresh and finely ground
1 4.7 ounce bag BarkTHINS TM snacking chocolate Dark Chocolate Pumpkin Seed with Sea Salt
Instructions
Preheat oven to 350°F.
Combine all purpose flour, baking powder, and kosher salt in a small bowl. Mix well with a whisk to aerate and evenly combine.
In a large measuring cup or bowl, melt together butter and chocolate chips. Stir well so that they're completely combined, and set aside to cool.
In the bowl of a stand mixer, combine dark brown sugar and eggs, mixing until light and fluffy. Add vanilla extract and mix again.
When chocolate mixture is cool enough to not cook the eggs, add it to the brown sugar and eggs, mixing on low speed until well combined.
Remove bowl from stand mixer. Add dry ingredients and finely ground coffee to the wet ingredients and stir until just combined.
Spray an 8×8? baking pan with cooking spray. Pour roughly half the brownie batter into the pan and spread evenly with a spatula.
Layer the entire contents of a bag of Bark Thins on top of the brownie batter so that it's even across the pan. Pour and spread the remaining brownie batter over the Bark Thins.
Bake for 20-22 minutes. Do not overbake.
Allow to cool for at least an hour. Slice into 9 large squares or 12 smaller ones and enjoy!