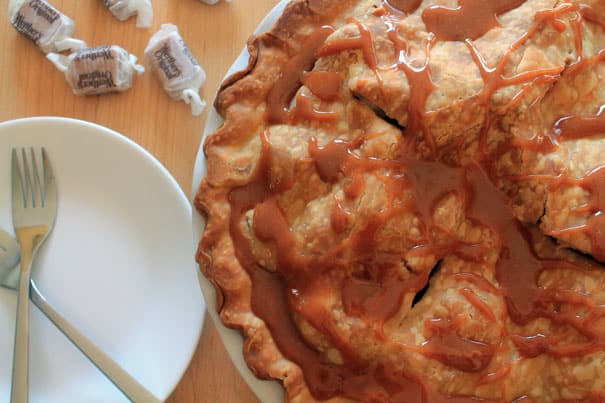 Okay, so it's not really the "season" for caramel apple pie, but I'm never one to let the season stop me when I've got a craving. There's still plenty of great apples popping up at my local market, and who's with me: there's never a bad time for pie.
I'll be honest and tell you that this pie came to me months and months and months ago, back when James and I were in Orlando for Food Blog Forum at Walt Disney World. You may not know it, but at Epcot, there's a German pavilion, and in that pavilion is a new Werther's Caramel shop. Everything you could ever imagine in caramel flavor, from apples to popcorn, shortbread to fudge, if it can be made with caramel, you'll find it in the Karamell-Küche.
While walking around Epcot noshing on caramel corn that had been made before my very eyes, I thought of the caramel apples I had also considered. Call me weird if you want to, but I've never been excited by a caramel apple. Something about the stickiness potential turns me off. Caramel apple pie, however, is another story. That's something I can get behind.
Each bite of this pie is like that first bite of a caramel apple – without ever getting to the middle of the plain apple.
About a week ago, James and I got to attend Pie Party NYC. What is Pie Party, you ask? It's an excuse to eat pie, for a start. But it's also a great way to meet other bloggers in the NYC area, and chat with some really cool brands; Jarlsberg USA, Kerrygold, WÜSTHOF knives, Anolon gourmet cookware, OXO, Dub Pies, and the Harvard Common Press.
The party was held in the swanky GE Monogram Center, one of the most beautiful event spaces I've been to in New York City. And the appliances! They're enough to make a girl swoon. You can see and play with them all in the showroom. (When they're not covered in delicious pies, that is.)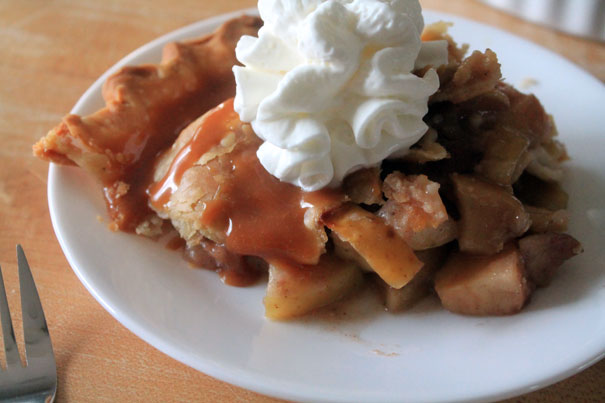 The party is free for those attending, except that you must bring one pie per ticket holder. Since both James and I wanted to get our pie on, that meant two pies. I knew immediately that I'd be taking
Nanny's Kahlua Pie
. And finally, finally, my dream of Caramel Apple Pie could come true.
It did not disappoint. This is the apple pie of apple pies. Perfectly spiced, and not overloaded with sugar. I used Pink Lady apples, which happen to be my favorite for eating and baking. They're just the right amount of tart to pair well with caramel. Adding a drizzle of caramel on top of the pie just makes every bite perfection.
You're gonna love this caramel apple pie.
Yield: 1 9" pie
Caramel Apple Pie
Caramel Apple Pie is everything you hoped it would be. Your dessert table just got epic.
Total Time
1 hour
20 minutes
Ingredients
2 pie crusts homemade or store-bought
6 cups Pink Lady Apples peeled, cored, and sliced into 1/2? slices
1/2 cup granulated sugar
3 tablespoons all-purpose flour
1/2 teaspoon ground cinnamon
1/4 tablespoon ground allspice
1 tablespoon pure vanilla extract
20 Werther's Baking Caramels
1 tablespoon heavy cream or half and half
Instructions
Preheat the oven to 375°F.
Lay one pie crust across the bottom of a 9? pie pan and press gently into the sides and bottom. There should be about 1/2? overhang on all sides.
In a large bowl, combine apple slices, granulated sugar, flour, cinnamon, allspice, and vanilla extract. Toss with your hands to coat evenly.
Add 15 unwrapped caramels to the apple mixture and toss to distribute. Pour apple filling into the pie pan.
Cover with the second pie crust, tucking together and fluting the edges.
Cut slits into the top of the pie crust for ventilation. Cover the edge of the pie with foil or a silicone pastry protector.
Bake for 25 minutes, then remove foil or protector, and bake for another 30-35 minutes, until crust is golden.
Allow to cool completely, then melt 5 caramels and tablespoon of cream or half and half in a microwave safe bowl. I heated them for 30 seconds at a time, for about a minute and a half, stirring after each time.
When the caramel is melted to a smooth consistency, use a spoon to spread it over the top of the pie crust. You can make designs or just cover it completely – this is up to you.
Allow to cool – the caramel will harden. Serve immediately, or cover with foil and serve within 3 days.