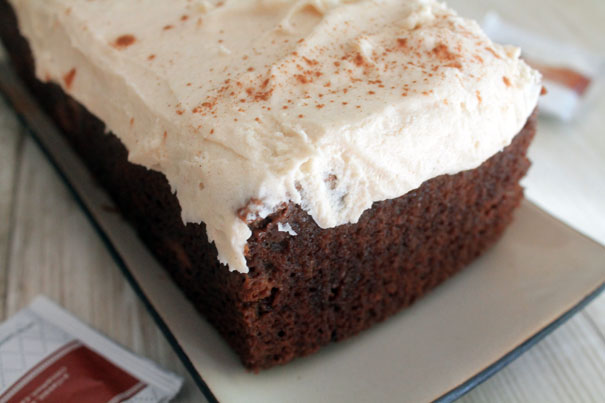 I've been seeing chocolate chai everywhere these days. It started at Starbucks, with their Chocolate Chai Latte, and then it started popping up all over the blogosphere. Christina's
Chocolate Chai Donuts
, for example. This Chocolate Chai Pound Cake grew out of my obsession with all those beautiful spices, and tea.
Anyone who knows me knows that since living in England, I'm obsessed with a perfect cup of tea. Usually I go for a strong every day tea, or Earl Grey, but I'll certainly admit that a milky chai has its place. Add chocolate? I'm sooooo there.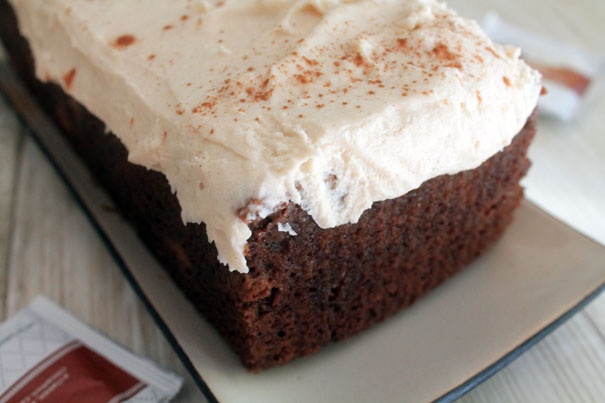 And as much as I love tea? The Brit is even more obsessed. He loves chai in all its many forms. When this Chocolate Chai Pound Cake emerged from the oven, he could barely contain his excitement. Then I covered it in his favorite kind of frosting, cream cheese frosting filled with all the spices you'd find in chai. As he will tell you, this cake is
diet breaker
worthy.
James preferred his slices directly out of the refrigerator, and the cake is so dense that I'll tell you, even 5 days later, it was moist and flavorful, and full of happiness. Serve a slice alongside your favorite brand of chai and you've got one excellent afternoon pick-me-up.
I baked my cake in a pullman loaf pan to get a perfectly flat, rectangular cake. It's not necessary though. Bake it in any shape you like. Even cupcakes, though I don't know how many it would make.
I also think this cake would be a holiday potluck superstar. The flavors are just different enough from the usual holiday table flavor to make people take notice, while still highlighting all the toasty favorite spices of the season. Enjoy!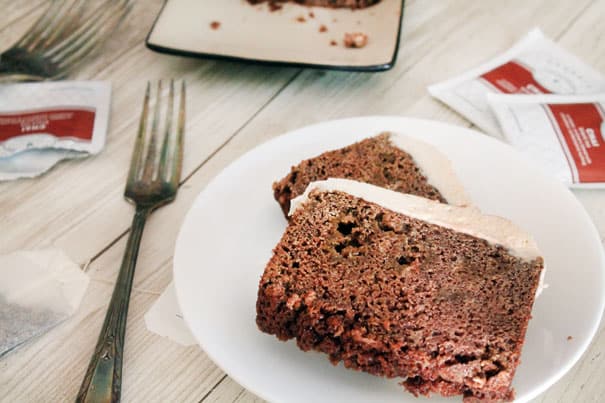 Chocolate Chai Pound Cake with Chai Cream Cheese Frosting
---
Yields 1 8" loaf cake
Ingredients
For the Cake

1/2 cup brewed Chai
2 oz baking chocolate, melted
1 cup brown sugar, packed
1/2 cup butter, softened
2 eggs
1 teaspoon vanilla extract
1/2 cup sour cream or plain Greek yogurt
1 1/2 cups all purpose flour
1 teaspoon baking soda
1/2 teaspoon kosher salt

For the Frosting

1 8 oz block cream cheese, softened
1/4 cup butter, softened
2 cups powdered sugar
1/2 teaspoon cardamom
1/2 teaspoon allspice
1 teaspoon cinnamon
1/2 teaspoon cloves
1 1/2 teaspoons ground ginger
1/2 teaspoon nutmeg
1 teaspoon vanilla extract
half and half or heavy cream if needed
Instructions
For the Cake

Preheat oven to 350°F. Spray an 8" bread pan with baking spray, or butter and flour it.
Brew tea until nice and strong, about 5 minutes.
In a microwave, melt 2 ounces unsweetened or bittersweet baking chocolate. I used Ghirardelli's new Dark Chocolate Melting Wafers. Heat for 30 seconds in a small bowl, then stir. Heat for an additional 30 seconds if needed.
Combine tea, chocolate, and brown sugar in the bowl of a stand mixer. Mix on medium speed until well combined.
Add softened butter and mix again, then the eggs, one at a time. Beat on medium high speed until light and fluffy.
Add vanilla extract and sour cream and mix again until well incorporated.
In a separate bowl, combine all purpose flour, baking soda, and kosher salt. Whisk together to distribute and aerate.
Add the dry ingredients to the wet, mixing on low speed. Scrap the sides of the bowl often, and mix until just combined.
Pour batter into prepared pan. Bake for 35-40 minutes, until a toothpick inserted into the center of the cake comes out clean.
Allow to cool completely before frosting.

For the Frosting

While the cake cools, combine cream cheese and butter in the bowl of a stand mixer. Beat on medium or high speed until well combined.
Add powdered sugar and spices, and beat again until light and fluffy.
Add vanilla extract and beat again.
If needed to reach desired consistency, add half and half or heavy cream, one tablespoon at a time. Mix after each addition until desired texture is reached.
Frost cake when it is completely cool, then allow cake to sit in the refrigerator for at least an hour. This dense cake is good for up to 5 days.
7.7.0.1
28
https://www.bluebonnetbaker.com/2013/12/16/chocolate-chai-pound-cake/
© 2008- 2016 Amber Bracegirdle - All Rights Reserved