Thanksgiving for Two is a one-pot meal that you can have any time of year. It's especially nice to make as the evenings turn chilly, but before the first snowfall.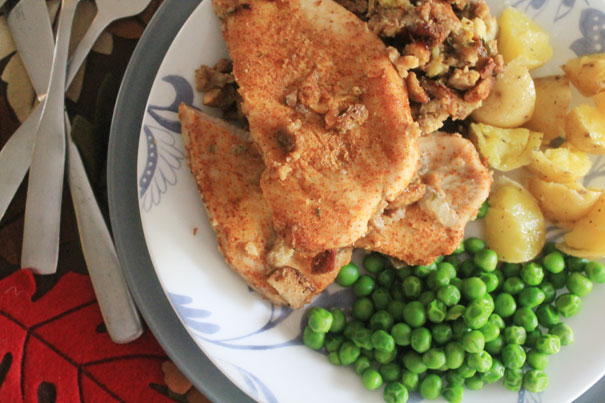 When you're a tiny family of two or three, Thanksgiving can seem a bit daunting. Do you turn the day into Friendsgiving so you can go all out with your cooking? Do you go out to a restaurant? Or do you find a way to scale down the meal into just enough for dinner and the requisite leftovers?
I'm here to tell you that with the help of turkey breast cutlets, you can easily make a Thanksgiving feast for two, with leftovers! The best part is that the stuffing and turkey go in one single pan, leaving plenty of room in your oven for things like mini pumpkin pies.
It has to be said that traditional Thanksgiving fare; turkey, stuffing, mashed potatoes, roasted parsnips and carrots, are easily a one-a-month occurrence around here. James would happily eat stuffing at every meal if I let him, especially when there's gravy involved.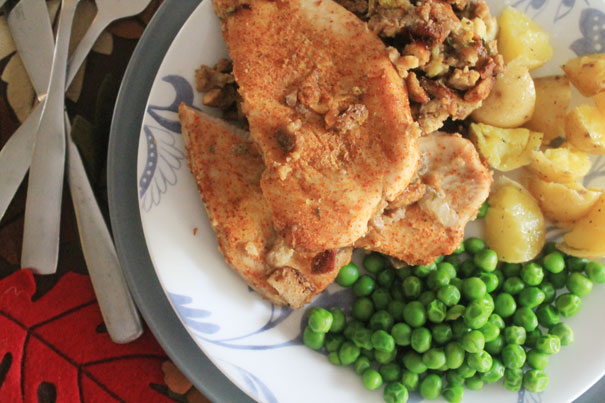 Since we love to eat this meal often, I had to come up with a way to make it do-able for two, without an absolute ton of leftovers. But the best part of a turkey dinner is the leftovers you can pile on to a good sandwich roll the next day, amiright? So there have to be enough leftovers for at least that.
That's where the Anolon Everything Pan comes in. I bake the stuffing and turkey together in this beautiful copper bottomed pan. Once fully cooked, serve them up and make gravy directly on the stove top in this versatile pan. This is especially good because there are bits of turkey and stuffing left in the pan that add excellent flavor and depth to your pan gravy.
Easy peasy, Thanksgiving for two!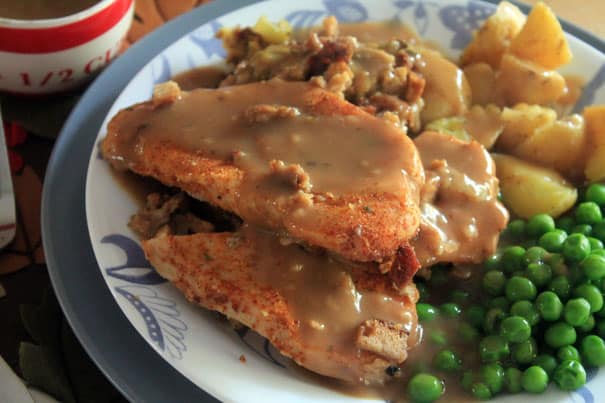 Ingredients
3 tablespoons butter or canola oil, divided
2 stalks celery, diced finely
1/2 sweet onion, diced finely
1 10 oz bag Stuffing mix (I used Arrowhead Mills Organic Savory Herb Stuffing)
1/2 cup dried cranberries
1 cup chopped pecans
3 cups chicken or turkey stock, divided
4 turkey breast cutlets
salt, pepper, and seasoning salt to taste
2 tablespoons all purpose flour
Instructions
Preheat the oven to 350°F.
Heat oil or butter in Everything Pan, until lightly bubbling. Add diced onion and celery. Season with salt and pepper, and stir often until onions and celery start to become transluscent. Remove from heat.
In a large bowl, combine stuffing mix, cranberries, pecans, and the celery and onions from the pan. Add 1 cup of stock. Stir well until evenly distributed. Pour mixture back into the Everything pan.
Season turkey breast cutlets liberally with salt, pepper, and seasoning salt. Layer on top of the stuffing in the Everything pan.
Place the Everything Pan in the oven and bake for 45-55 minutes, until turkey reaches 165°F.
To Make the Gravy

Remove turkey and stuffing from the Everything Pan to a serving platter.
Heat remaining 2 tablespoons of butter or oil in the pan, back on the stovetop.
When the butter is melted or the oil starts to bubble lightly, add 2 tablespoons all purpose flour. Whisk continually to create a roux, allowing the flour to cook down for a minute.
When the roux is golden, add 2 cups of chicken or turkey stock. Continue to whisk on medium heat until the gravy starts to thicken. Add salt, pepper, seasoning salt, and fresh or dried herbs to taste to customize to your personal tastes.