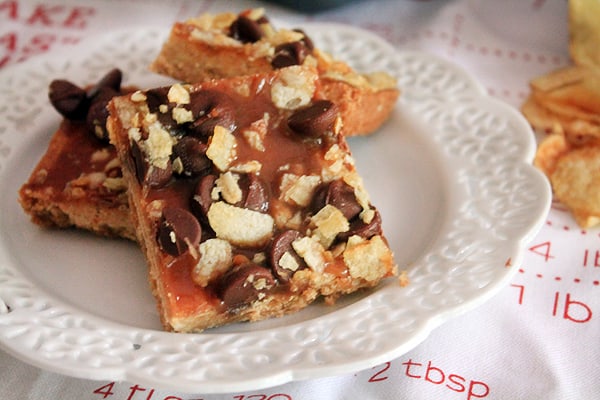 If you know me in person, it's no secret that I have a serious snack addiction. I have a sweet tooth too, I think that much is obvious if you read my blog, but nine times out of ten, if you offer me salty potato chips or a bowl of ice cream, I'm going to take the potato chips.
I'm a big fan of Kettle Brand Potato Chips especially. They've got that fantastic small batch crunch, and I've been buying them for years. Heck, they've been around nearly as long as I've been alive – since 1982. Before anyone else was making small batch kettle cooked chips, these guys were selling them out of their van. That makes 'em legit.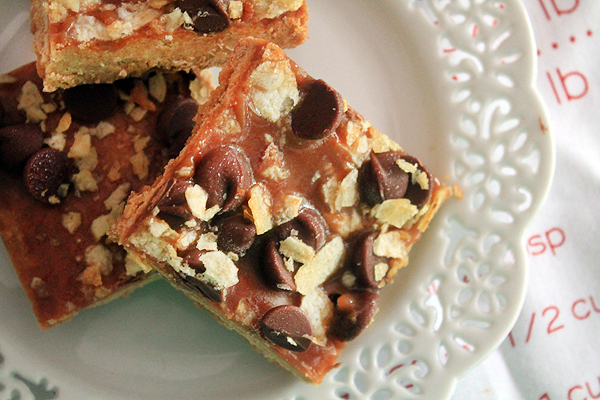 Recently, I was asked to share with you why I like Kettle Brand Chips, but more importantly, the fact that they are the very first potato chip to be certified by the Non-GMO Project. What does this mean? It means they never use genetically modified ingredients to make their chips – not the potatoes, not the oil, nada!
Now, I've snacked through more than my fair share of Kettle Brand bags of chips (Sour Cream and Onion are my favorite, my husband can't wait for their new Maple Bacon flavor to make an appearance), but I know that snack chips can be more than just snack chips. As witnessed by my Frito Jets, dontcha know!
Enter shortbread. And salted caramel. And because I never know when to quit, chocolate chips. When combined with crushed Kettle Brand Sea Salt Chips? Insanity ensues. These Kettle Chips Shortbread Bars are beyond. Just beyond. I couldn't stop eating them. Sweet meets savory, and that is just a combination I can't resist.
Start with a simple shortbread base. Add a jar of your favorite salted caramel sauce (I used Trader Joe's), then add your favorite semi-sweet chocolate chips (Ghirardelli!). You will be everyone's favorite person. Forever.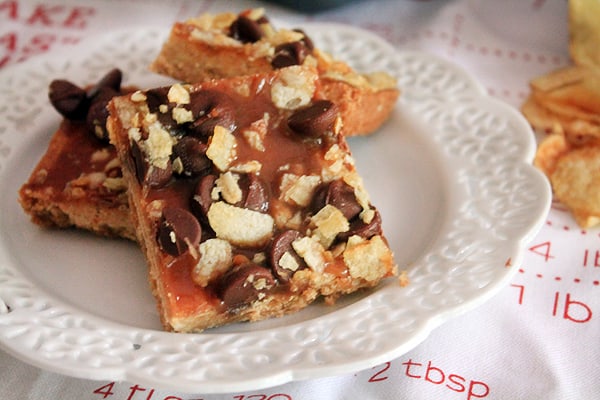 Yield: 12 2x2" squares
Kettle Chips Shortbread Bars with Salted Caramel and Chocolate Chips
Prep Time 15 minutes

Cook Time 25 minutes

Total Time 40 minutes
Ingredients
1 1/2 cups all purpose flour
2 cups Kettle Brand Sea Salt Potato Chips, divided
1/3 cup powdered (icing) sugar
3/4 cup unsalted butter (1 1/2 sticks), cubed
For Topping
1/2 cup Sea Salt Caramel Sauce
3/4 cup semi-sweet chocolate chips
Instructions
Preheat the oven to 325°F. Spray an 8"x10" pan with cooking spray and set aside.

In the bowl of a food processor, combine flour, 1 cup of potato chips, and powdered sugar. Pulse ingredients together until chips are well crushed, roughly 3 to 5 times.

Add cubed butter to the bowl, then pulse together again until you have a cohesive dough.

Press the dough into the greased pan, creating an even layer.

Bake for roughly 25 minutes, until just before golden brown.

Remove the shortbread from the oven, and pour salted caramel sauce over the top. Sprinkle with chocolate chips, then place back in the oven for approximately 5 minutes.

Remove shortbread from the oven and allow it to cool slightly. While shortbread is cooling, crush the reserved 1 cup of potato chips. Sprinkle over the top of the shortbread before it cools completely.
Notes
Serve immediately or refrigerate until ready to serve. Also freezes beautifully.