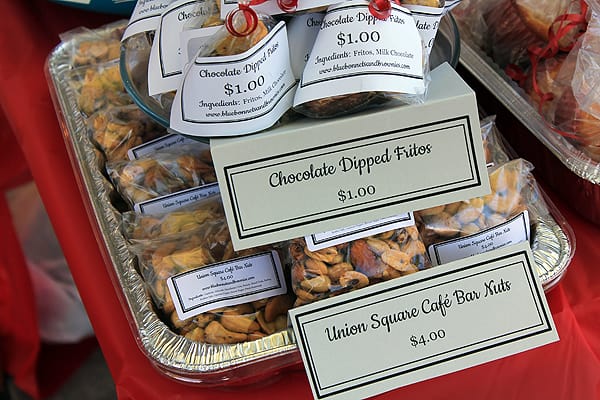 I first had these bar nuts pre-dinner outing at Pam's house several years ago. As we waited for one of the fellas to get home so we could all go nosh on pizza at some cool boutique-y little restaurant in Connecticut, it was clear that everyone was ravenous.
Ever the perfect hostess, Pam grabbed a Costco container out of the cupboard and poured a bowl full of these spicy, sweet, perfectly savory nuts for us and set them on the island. They were gone in mere moments.
Over the last six years, I've made these nuts for every party I've thrown, for every game night, and even for a wake. They're the exact snack you want whether you've got wine, beer, or whiskey in your hand. They smooth the rough edges in the same way a glass of wine does, giving you just enough satiety to power through until dinner is in front of you.

Sitting out front a wine store for our Great American Bake Sale, I figured these nuts would be a no-brainer. They go exceptionally well with a crisp fruity white, I'm happy to tell you.
Whether you make these as a starter for your Memorial Day barbecues or just to keep around the house as a pre-dinner snack, everyone's going to want the recipe, I promise.
Yield: 4
Union Square Bar Nuts Recipe
Ingredients
1 2.5 lb container Mixed Nuts, (We find ours at Costco)
1 2.5 lb container Super Extra Large Roasted Salted Peanuts, (also found at Costco)
3 tablespoons butter, melted
5 tablespoons fresh rosemary, minced
1 teaspoon cayenne pepper
1 tablespoon plus 2 teaspoons brown sugar
1 teaspoon kosher salt
Instructions
Preheat the oven to 350°F.
In a very large bowl, combine all the nuts and mix until the peanuts are well distributed. Line a jelly roll pan or baking sheet with parchment paper, then pour half the nuts onto the sheet, spreading into an even, single layer.
Roast in the oven for 10 minutes. While the nuts are roasting, combine the other ingredients.
Melt the butter in the microwave, then add rosemary, cayenne pepper, brown sugar and salt to it. Stir well to combine.
Make sure to set aside the un-roasted half of the nuts in a second, separate bowl. You'll need your largest bowl for the next stage.
When nuts are ready to remove from the oven, carefully pour them into the original large bowl that they fit in. Add half the butter mixture and stir, stir, stir until you're sure all the nuts have received a bit of coating.
Turn the nuts back out onto a second, cool baking sheet and allow to cool to room temperature.
Repeat the process with the second half of nuts.
Notes
Depending on the size of your baking sheet, you may need to do this in more than 2 batches. Figure out how your nuts will divide out on the size of baking sheet, and then divide your butter mixture accordingly, or make more of it.
You can return them to the original packaging for storage, or keep in ziptop bags.
Do not use dried rosemary. The flavor is way too intense for this light snack.
This recipe makes a lot more than the original published by Pam. We like to keep these nuts on hand at all times, so we store what we can eat in 2-3 weeks at room temperature, and the rest are stored in the freezer, where they will keep for up to 6 months.
Due to the increasing cost of nuts, I extended the recipe with peanuts, which were a good $5 cheaper per 2.5 lb container. If you prefer to use all mixed nuts, you are welcome to do so. The rest of the recipe stays the same.
Adapted from Pam Anderson's The Perfect Recipe for Losing Weight and Eating Great.