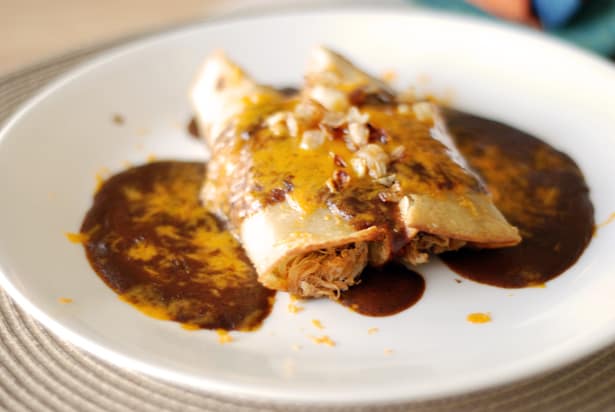 Cheese enchiladas are comfort food to me the way matzo ball soup might be to someone on the East Coast. It's just one of those satisfying meals that sounds good no matter what time of day it is, where you are, or whether or not you've just eaten.
I just got my Texas Monthly magazine yesterday (thanks to my hubby for subscribing), and this month is dedicated to "How to Cook Like a Texan". Of Cheese Enchiladas, Katharyn Rodemann writes, "They say our palates memorize flavors. If that's the case, every Texan has enchiladas learned by heart."
Amen.
I'm surprised at myself for not making them more often, because they are so easy to make it is silly. Authentic enchiladas are made with corn tortillas, not flour. Don't let the Kraft, Pillsbury, and Betty Crocker websites fool you. There is no such thing as Enchilada pie, or enchiladas made with flour tortillas. At least, not that any Tex-Mexican would recognize.
Knowing that I couldn't get away with just cheese filled enchiladas in this household (The Brit would be asking me "Where's the carne?" faster than you can say carnivore), I fattened up my enchiladas with some pulled chicken thighs poached in chicken and tomato stock, cumin, garlic, tomato paste and ancho chili powder.
We were both really happy with the outcome – even more so when Mr. B&B proclaimed them the "Best enchiladas I've EVER eaten". Now, folks, my husband tells me all the time that what I've made is good or yummy. But the man is pragmatic as he is charming, so I rarely get a "best ever!" comment from him. It made me glow!
Make these for dinner tonight. Cook like a Texan!
Yield: 4 servings
Cheesy Chicken Enchiladas
Total Time
1 hour
25 minutes
Ingredients
Chicken Filling
4 boneless skinless chicken thighs
2 tablespoons double concentrate tomato paste
1 cup chicken and tomato OR plain chicken stock
salt and pepper to taste
1 1/2 teaspoons granulated garlic
1 teaspoon ancho chili powder or hill country chili powder
2 teaspoons cumin
Chili Gravy
2 teaspoons powdered garlic
2 cups chicken and tomato or plain chicken broth
2 tablespoons ancho or hill country chili powder
1 teaspoon dried Mexican oregano
2 teaspoons cumin
1 teaspoon salt
1/4 teaspoon black pepper
1/4 cup flour
1/4 cup canola or grapeseed oil, or lard (yes, I cook with lard. Are you aware it has no trans fats, and LESS fat than butter and most oils?)
For enchiladas
2-3 cups of sharp cheddar cheese
Shredded chicken thighs as prepared above
1 chopped onion
8-10 corn tortillas
chili gravy
Instructions
For the Chicken Filling

Add tomato paste, spices, and stock to a large sauce pan, and whisk to evenly distribute.
Add chicken thighs directly to stock, and allow to cook on medium heat for 45 minutes to an hour, until chicken is fork tender and easily pulled apart by two forks.
Stock should reduce down until there is almost none left.
Pull all of the chicken so you are left with shredded chicken sitting in a little broth.
For the Chili Gravy

Heat oil or lard in a large frying pan.
When hot, whisk in flour until you've got a paste-like consistency, otherwise known as a roux. Add the rest of the spices and whisk again until fully incorporated.
Add chicken stock to the pan and whisk continually until gravy begins to thicken.
Turn heat to low, and allow to simmer for 15 minutes.
If gravy thickens too much (should be the consistency of beef or chicken gravy that you would put on a roast dinner), add more chicken stock 1/4 cup at a time to thin to your desired consistency.
For Enchiladas

In a medium frying pan, saute approximately 1 chopped onion if so desired, until translucent and slightly brown.
Remove to a bowl and save for enchilada assembly.
Preheat the oven to 450°F. Line a plate with paper towel.
When frying pan is cleared of onions, add approximately 3 tablespoons of oil to it.
Allow to heat completely. Place the tip of a wooden spoon into the oil. When bubbles form and race away from the spoon, the oil is hot enough.
One at a time, shallow fry corn tortillas, flipping after 30 seconds, until both sides are slightly browned, but not dark.
Remove tortilla to paper towel lined plate, and continue on until all tortillas are fried.
Now you are ready to begin assembly.
Place 2-3 tortillas on an oven safe plate, with enough room to fill each.
Add 2 tablespoons of the shredded chicken mixture, a spoonful of cooked onions, and as much shredded cheddar cheese as you desire. Roll the tortilla and place back on the plate with the seam-side down.
Continue with the other tortillas on the plate, until you have 2 or 3 enchiladas lined up in a row.
Cover the enchiladas with a ladle-full of chili gravy, and more cheddar cheese and onions as desired.
Add refried beans and Mexican rice to the plate if desired. Place the plate in the oven to melt the cheese.
Continue assembly of all other plates required, adding them to the oven as each is finished.
Remove the first plate as the cheese is fully melted and begins to bubble.
Make sure to remove from the oven with an oven safe mitt, and serve on a place mat. The plate will be hot, as it would be in a Mexican restaurant.
Devour with copious amounts of Tecate beer, guacamole salad, and tortilla chips, as any good Texan would do.
Notes
Chili Gravy adapted from Robb Walsh's Tex-Mex Cookbook